Freelance platforms have been around for at least a decade already. Generally speaking, when most people think about freelancers, what comes to mind are developers, designers, translators, and content writers. However, due to a growing need for elastic human resources and workers' desire to have more flexibility, even positions like lawyers, CFOs, and CEOs are being filled by freelancers.
Now, you can hire freelancers to help build your startup or scale your company with just a few clicks and interviews.
With that said, every platform has its strengths and weaknesses. For instance, how do you know which platform will have the best freelance developers that you need? Moreover, if you value project management assistance above all else, which freelance website should you look into?
In the rest of this post, we will save you some trouble by comparing Upwork, Toptal, and CodementorX on these factors:
If you simply want a quick side-by-side comparison chart of Upwork, Toptal, and CodementorX, click here 👈🏼 !
Before we dive into our comparisons, let's start with a brief introduction of each platform.
Freelance Platform Background
Upwork

Upwork was officially established in 2015, 18 months after the Elance-oDesk merger in December 2013. Since Elance was founded in 1999, Upwork can be considered the oldest freelance website in the freelance marketplace.
Upwork allows its users full autonomy to interview, hire, and work with freelancers and agencies with little to no assistance. In February 2016, Upwork launched its premium service, Upwork Pro. Unlike with its basic service, companies can pay additional fees on every job search for handpicked, pre-vetted freelancers.
Toptal
Toptal was founded in 2010 by Taso Du Val and Breanden Beneschott. Initially, it started as a platform focused on providing freelance software engineers to mostly corporate clients.
In October 2015, Toptal launched Toptal Designers, which connects designers with clients. In April 2016, Toptal acquired Skillbridge to expand its services to providing business and finance-focused freelancers as well, and in March 2017, they launched Toptal Finance.
Toptal, focused on software, design, and finance services, is funded by Andreessen Horowitz, Adam D'Angelo, and Ryan Rockefeller.
CodementorX
CodementorX is an exclusive freelance platform where startup CTOs from top accelerators, senior developers at Fortune 500 companies, and popular open-source contributors can be hired for freelance opportunities, large-scale software projects, and more. It was officially launched in 2016 and built on top of the biggest online marketplace for software development mentorship, Codementor.
Since its official launch in 2014, Codementor has built a robust community with more than 300,000 developers and 8,000+ vetted expert developers. CodementorX freelance developers include many of the top performing developers in the Codementor community.
CodementorX is well-established in the startup community and is funded by Techstars, 500 Startups, and Alibaba.
Type of Marketplace
All freelance platforms fall under one of the two categories: general or niche.
As their names suggest, general freelance marketplaces offer a wide range of services (i.e. software development, design, marketing, and more), while niche freelance marketplaces focus on a specific industry and the skill sets within that domain (e.g. software development, which includes front-end, mobile, etc.).
Here's where Upwork, Toptal, and CodementorX fall and the types of freelancers they offer:


Both Upwork and Toptal offer freelancers in different industries, which place them in the category of general freelance marketplaces; CodementorX, on the other hand, focuses on one specific niche.
Now, if you're looking for a sales & marketing professional, Upwork would be your only option here (or you can consider these Upwork alternatives). However, if you're looking for a software developer, you could utilize any of the platforms.
So, how would you decide which kind to use? Here are some pros and cons that separate general and niche freelance marketplaces: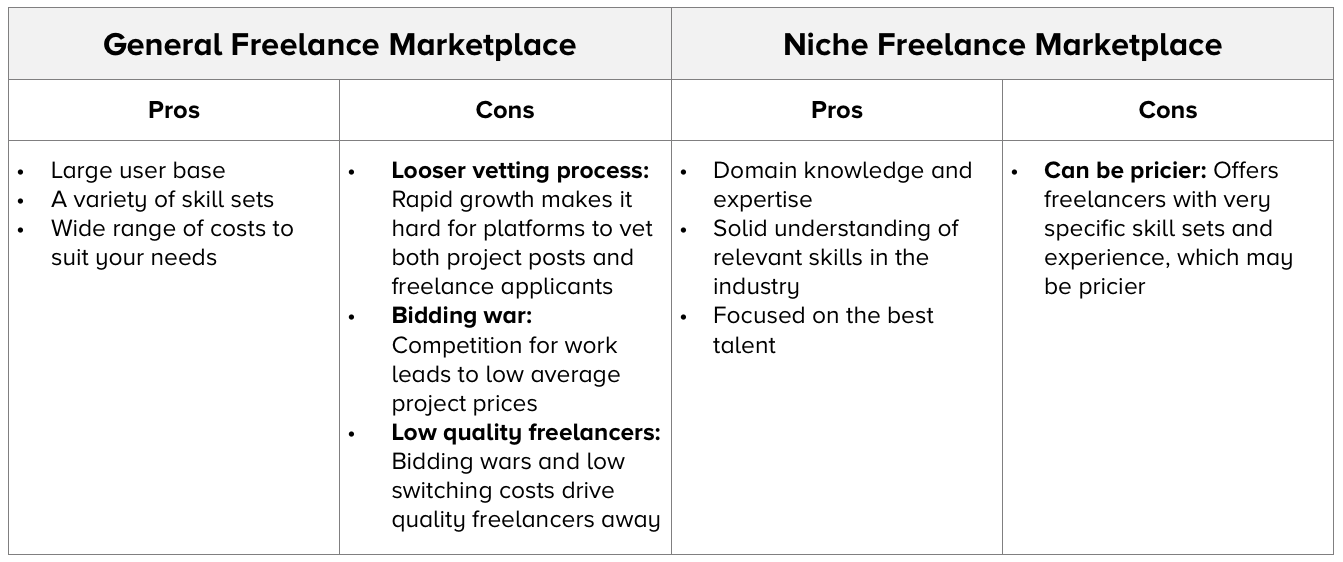 Keep in mind, that certain pros and cons may not always apply, such as for platforms like Toptal, because although it offers freelance services in multiple areas (which puts it in the general category), they have a thorough vetting process for their freelancers (and we'll get to that later). Toptal can be seen as a hybrid between the two.
Depending on your needs, you can decide which type of platform suits you better.
Pricing & Other Fees
One of the main reasons why startups and businesses are increasingly relying on freelancers is because you could easily save up to 50% by hiring freelancers instead of full-time employees. Since low hiring cost is one of the main concerns, let's take a closer look at how much it'd cost to hire freelancers on each platform.

Upwork has a bidding system — take software development as an example, the range can go as low as $10 per hour. With that said, that's most likely at the very low end of the totem pole — the range of costs on Upwork can be quite wide. Upwork doesn't offer information on the cost of freelancers for their basic service.
The hourly rates for Toptal and CodementorX developers are similar. The hourly range starts at around $60. Depending on the developers' levels of experience, their hourly rates might differ. For instance, if you're looking for a developer from Google or a startup CTO to help with your software project, you could be looking at $120+/hour.
Check out our Freelance Developer Rate Explorer →
Vetting & Matching Process
Vetting and matching are two of the most important and difficult things to master when hiring freelancers. If you're an experienced developer, marketer, or writer, it'd be slightly easier for you vet freelance developers, marketers, or writers yourself. With that said, not everyone who's looking to hire freelancers will be a domain expert. And even if they were, they may not have the time to go through rounds and rounds of interviews just to weed out the bad candidates.
This is why the vetting and matching process matters so much — niche freelance websites can save you lots of time and energy by matching you with the most suitable freelancers they've already vetted.
With that in mind, let's look at the vetting process for each of the platforms.

Upwork
Upwork does not offer any vetting or matching assistance. The only thing they verify is the freelancer's identity. The platform utilizes a bidding system: You post a job, freelancers bid on it. Whoever wins the bid, gets the bid. In essence, Upwork provides no assistance on both vetting and matching.
Toptal
Here's what Toptal's vetting process looks like, which was summarized based on the details provided on their site and FAQ when this post was published:
Language & personality: Applicants are expected to read, write, and speak English well.
In-depth skill review: They are tested for technical knowledge, problem-solving abilities, and intellect.
Live screening: Applicants are screened by other freelancers on their domain expertise, experience, communication and problem-solving ability, and creativity.
Test projects: They are also given real-world scenarios to demonstrate their competence and other skills.
Lastly, their freelancers need to maintain a good track record with their clients.
Depending on the kind of freelancer you're looking for, this is what Toptal's vetting process focuses on:
Developers: Review sample code, algorithm skills, and CS fundamentals
Designers: Review portfolios, check design fundamentals, and test design skills
Finance experts: Review past project experience, sample outputs, business analysis skills, consulting fundamentals
If Toptal does not have a freelancer in their network that meets a client's request, then according to Toptal, the process can take anywhere from one to three weeks to locate and vet a freelancer to match with the client. On the other hand, if the type of freelancer you're looking for is available in their network, the recommendation time will be shorter.
At the time of publication, Toptal's slogan was used in this post. It has been removed per request from Toptal.
CodementorX
CodementorX is an exclusive platform made up of tech leads from Silicon Valley companies, startup CTOs, popular open source contributors, and more. Many of them have been top-performing mentors on the Codementor platform, which means most have gone through at least two rounds of vetting. It also means that many freelancers are selected from a robust developer-focused community of experienced and passionate talent.
Let's start with Codementor. Developers are attracted to the platform because of its focus on software development, and reputation among other developers. To become a mentor, developers must fill out a detailed profile and submit an application. After that, our team will review the applicants' GitHub projects, LinkedIn profile, Stack Overflow, and several other channels to get an accurate picture of their experience, expertise, and passion.
When it comes to CodementorX's freelance developers, eligible developers will go through four vetting stages:
Coding Challenge: Applicants are tested on language-specific knowledge as well as general programming and algorithm knowledge.
Behavioral Interview: They are evaluated on their technical background, freelance experience, project management skills, and communication skills.
Small Project: Applicants are given scenarios that simulate real-world development projects to demonstrate their hands-on abilities with specific languages and frameworks.
Technical Peer Interview: They are interviewed by domain experts and rated on their familiarity with key tech stacks, library/framework, and general technical knowledge.
The matching process at Codementor looks like this: After a quick consultation with someone on the CodementorX team, a dedicated project manager will provide you with a shortlist of suitable developers within 48-72 hours. The team's matching algorithm behind these shortlisted candidates are powered by AI.
Trial Period
More and more freelance platforms are offering risk-free trial periods before clients and freelancers commit to working on a project together — it gives you another opportunity to vet freelancers.

Out of the three platforms, Upwork is the only one that doesn't offer a risk-free trial period.
Toptal and CodementorX both offer trial periods: if you're satisfied with the results from the trial period, you will be billed for the time and continue to work with the freelance developer. If you're not completely satisfied, you won't be billed, and the freelance platform will find you another developer who will hopefully be a better fit.
The length of the trial period may vary depending on the engagement, but as long as you're strategic about how you utilize it, the length shouldn't matter.
Project Management
Out of the 5 most common reasons why freelance projects fail, 3 are directly related to poor project management. Moreover, 50% of software project success has to do with good project management. Let's see whether or not project management is built into each platform's service.

For project management assistance, Upwork does not provide project managers with freelancers you hire, though you could hire one on their platform.
Toptal can help clients set up a team of designers and developers managed by a project manager as a part of Toptal Projects. (Note: We are not certain whether this service is included for every client, and whether or not there are any additional costs, so be sure to do your own research! More info here.)
As for CodementorX, we assign you a dedicated project manager to facilitate your engagement with the developer and tailors the project management assistance according to your needs. For instance, your needs could be as complicated as laying out the scope of your project or as simple as scheduling meetings with the developer — your project manager would assist accordingly. Of course, you will still be able to communicate with the freelancers directly. Furthermore, if you run into technical issues or need assistance with dispute resolutions, our team can assist you.
Beyond project managers, Upwork and Toptal provide time-tracking tools on their platforms, known as "Work Diary" and "Toptracker" respectively. For CodementorX, clients and developers can choose to use whatever time-tracking tool they prefer, and hours are logged on the platform itself.
Advising & Consulting
Understanding how projects are built and how they can successfully be integrated into your company's current workflow may take some additional consulting from a freelancer. What this means is the freelancer you hire can be able to provide consultation on the projects he or she has worked on.
For instance, you may want to know more about different tech stacks (e.g. pros and cons of different libraries and frameworks), your competitive spaces, the architecture plan, and more. Or perhaps, you simply plan to continue to iterate on the software with your company's internal developers. Both of these scenarios would require freelancers who are experienced in consulting and, perhaps, even educating.
Not every freelance developer has had prior experience with this, but since the ability to mentor others is one of the essential factors in the initial Codementor vetting process. Codementor mentors — and thus CodementorX developers — often times have been in the consulting and educational space for a while. Although some developers on other platforms may or may not be involved in this space, CodementorX developers tend to be active contributors to Codementor's community of developers and mentorship.
Billing Methods
Having a secure payment platform or a third party payment service is standard across all freelance websites. What matters beyond this is how payments are collected and released.
Here are the payment methods each platform supports and their billing process:


The three different platforms offer slightly different payment methods, billing processes, and payment arrangements. All three offer a secured and automated billing process — depending on your needs, one platform may suit you better than the others.
Learn more about different freelance payment methods in our comparison of Fixed Cost vs. Hourly vs. Retainer.
TL;DR (Summary)
The more freelance websites there are for you to choose from, the more deciding power you have. With that said, the more options you have, the more important it is to know which service suits you the best. Consider also reading our comparison of other freelance developer platforms to help you choose.
General freelance marketplaces are usually the biggest players in the gig economy due to the sheer number of users they have. However, general marketplaces are usually unable to escape bidding wars, which often lead to a decline in service quality.
Niche freelance marketplaces usually attract freelancers with very specific skills. What this means is that the freelancers on these platforms often have a solid understanding of their industry and possess domain expertise in their respective fields, and therefore their services can be pricier.
In addition to market type, there are many other important factors to consider before you choose a platform. Even though many opt for the cheapest option, this may backfire. Here's a comprehensive comparison chart for Upwork, Toptal, and CodementorX — these factors should all be weighed before you decide on which platform to use: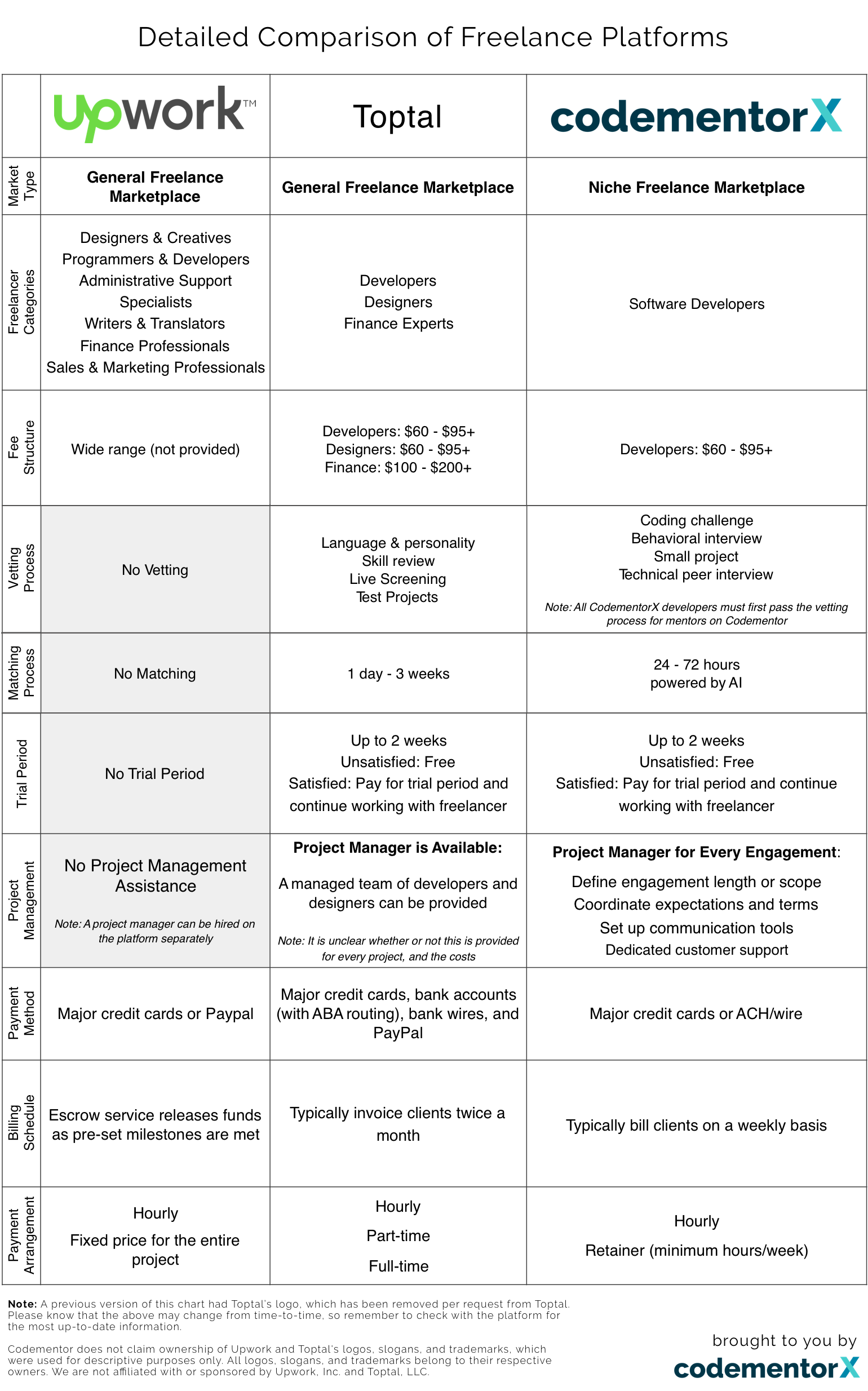 If you have any questions or comments, we'd love to hear from you! Leave a comment below or tweet us at @CodementorIO.
We hope this detailed comparison was helpful to you. Please note that the specific services and processes mentioned for each platform may change from time-to-time, so please remember to check with platform directly for the most up-to-date information!
After all, our mission is to help you succeed.
Disclaimer: Codementor does not claim ownership of Upwork and Toptal's logos, slogans, and trademarks, which were used for descriptive purposes only. All logos, slogans, and trademarks belong to their respective owners. We are not affiliated with or sponsored by Upwork, Inc. and Toptal, LLC. The information provided is based on our research, and we do not claim that any of the information was approved by third-parties (e.g. Upwork and/or Toptal). We encourage all readers to do their own research.
Some digital properties (e.g. logos) displayed when the post was originally published have been removed upon request.
Note: