Why Project Management (Tools) Matter
Whether you're a dynamic duo, a rapidly expanding team, or an established-but-still growing startup, chances are you're working hard on something. That's where project management comes in — to help you deliver your product to clients on, or even ahead of, schedule.
Project management tools for startups should be budget friendly and easy to work with. Ease of use is especially important if you work with freelance developers or a remote team.
While working with a remote team or freelance developers definitely has its advantages, it makes it essential for your project management tool to clearly convey when deadlines are and who is responsible for which tasks.
We've highlighted some project management tools below, divided into three sections: tools that are free or relatively low cost, tools that make delegating tasks to team members and freelance developers a cinch, and tools that are easy to use.
We hope that by tackling less well-known tools as well as big hitters, you'll find a project management tool that fits your needs.
Best Bang For Your Buck
If you want to stretch your dollar and your project management abilities, these tools are powerful and cost effective.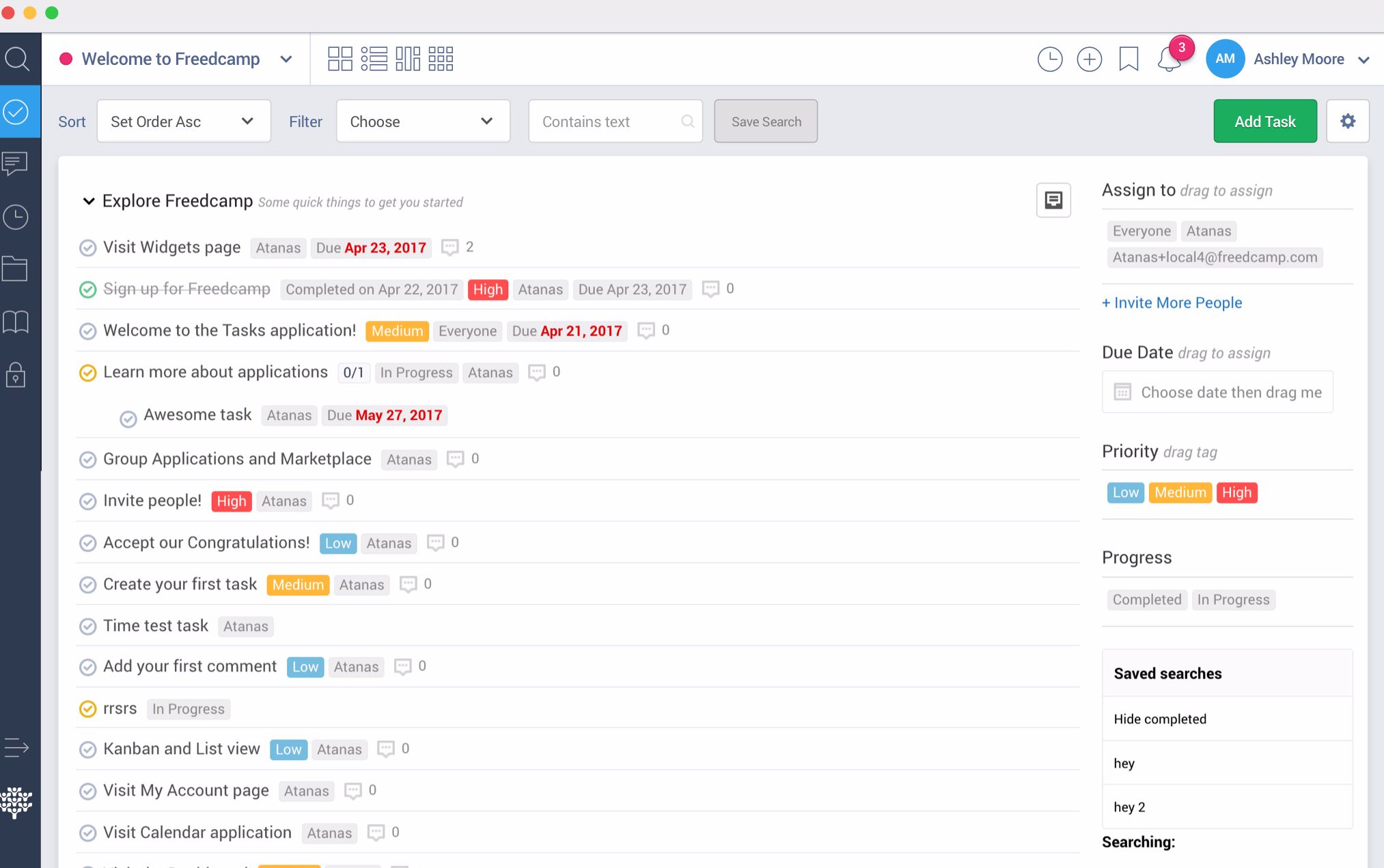 Freedcamp features task lists with subtasks, private and personal tasks, and a Kanban board — all for free. For project managers though, the best part is that Freedcamp offers unlimited storage for an unlimited amount of users for free.
This lets their remote team members and/or freelance developers contribute as much as they want without having to worry about storage space.
One user praises Freedcamp because it "provides project management out of the box and lets you add different modules to manage different areas of your business using one tool."
For another reviewer, Freedcamp seems "more targeted towards start-ups and lean companies that don't have a lot of income available to spend," and firms "that focus on more information-based material, such as writing articles or using project management tools to delegate tasks."
More about Freedcamp's pricing information and feature list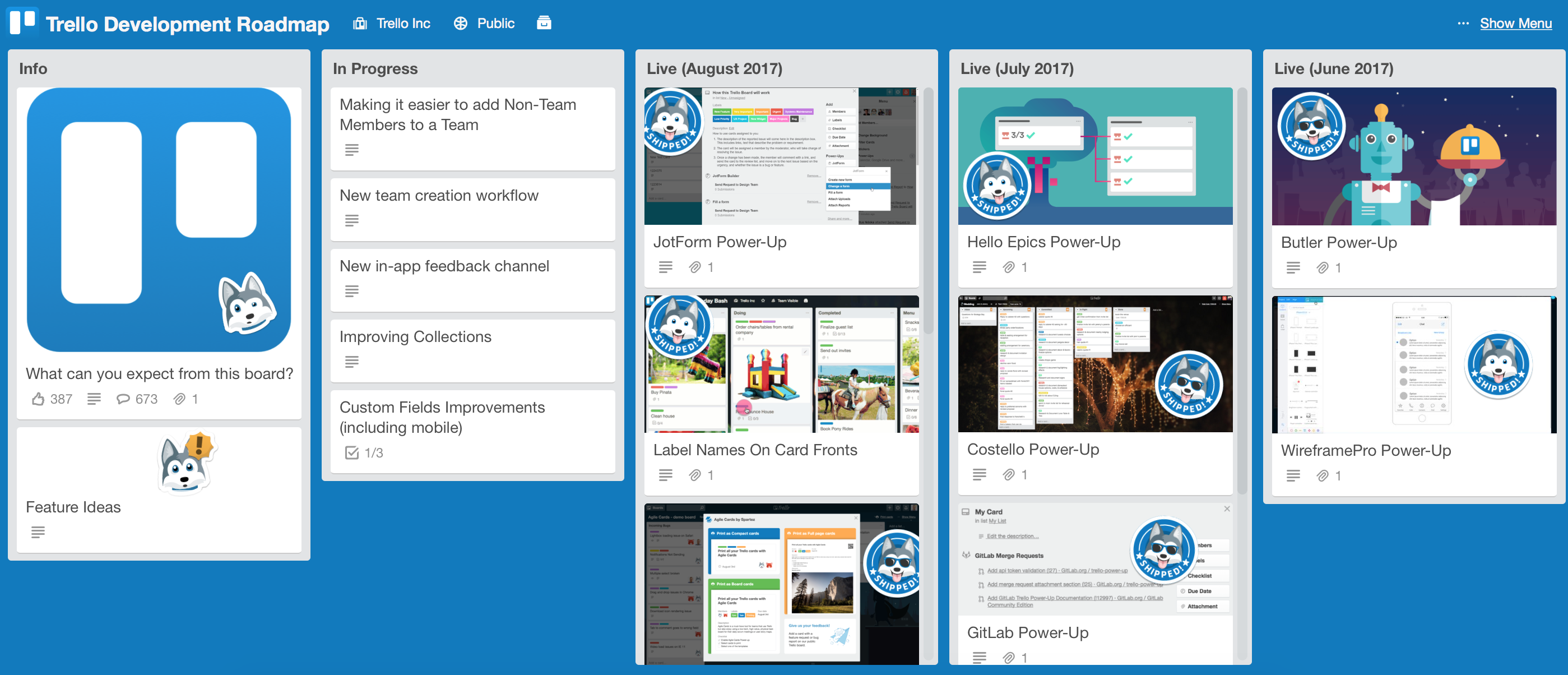 Trello is useful for project managers who work extensively with freelance developers because projects are laid out in cards. This makes it easy to share, organize ideas, and brainstorm with a remote team as well as with freelancers. As a bonus, team members can vote for cards, which is a fast way to get a feel for which projects, ideas, and/or features have the most support.
One reviewer praises Trello for its adaptability, saying, "One of Trello's strengths is that there's more than one way to use it. It's flexible enough to bend to your will, and you can get rather creative," while another loves its visual aspect, touting its balance [of] both a simple, elegant user interface and powerful, flexible features.
While Trello is the most famous Kanban project management tool, there are many others throwing their hats into the ring, such as WeKan, an open source Kanban, and Volero, which offers RSS social sharing and Amazon server data storage.
More about Trello's pricing information and feature list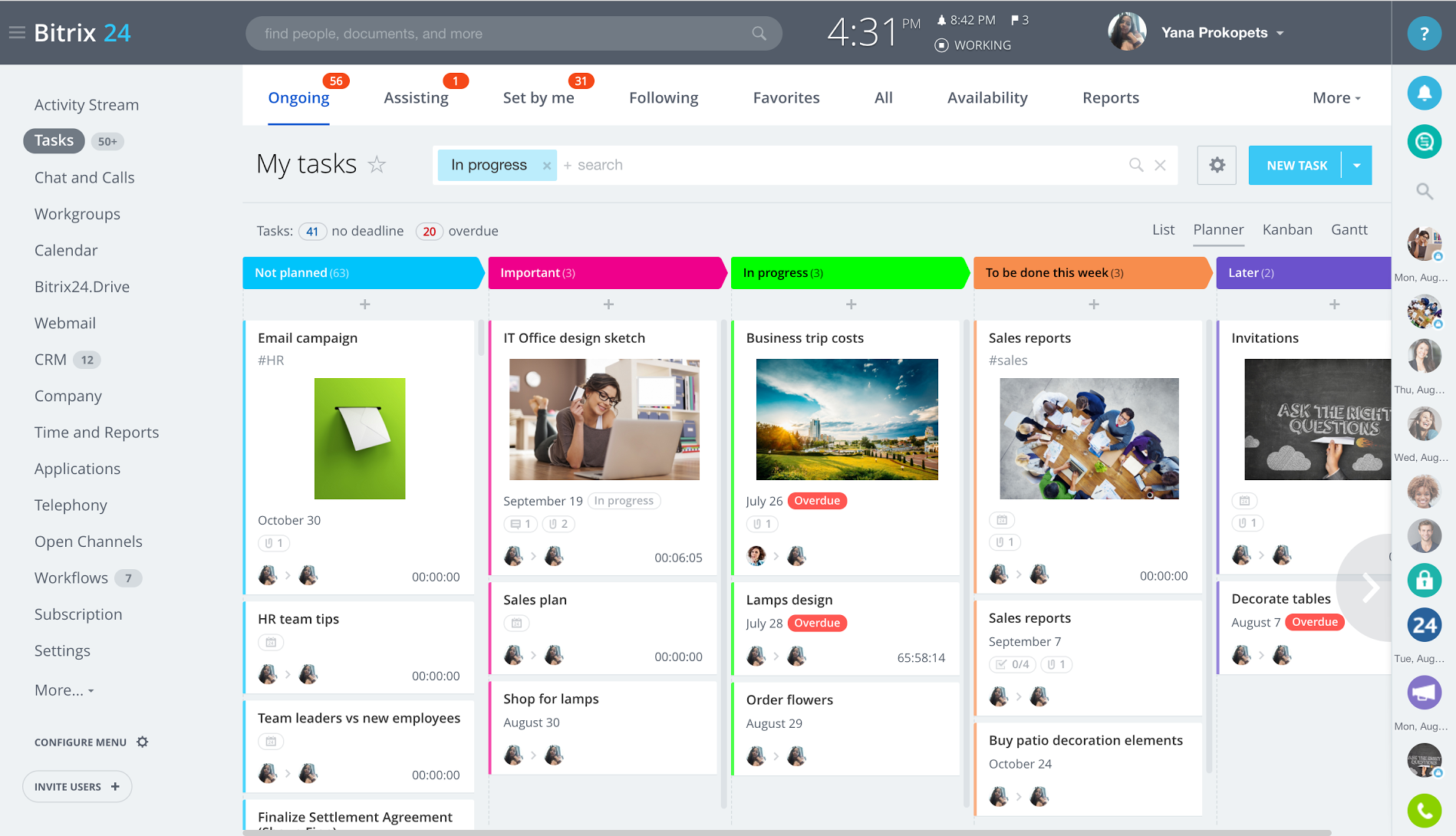 Bitrix24 is great for entrepreneurs and project managers who oversee a remote team and work with freelance developers, because, as one user describes, it's "a powerful collaborative suite that lets you talk to your clients, manage your documents, stay on top of large projects, and create invoices."
Everything workflow-related is packaged into one neat interface so that you can worry more about getting work done on time and less about keeping track of everything else."
Bitrix24 features instant messaging in addition to project management, to allow project managers to seamlessly communicate with their team, freelancers, and clients to keep everyone updated on the project at hand.
One Codementor user, Josh, recommended Bitrix24 as "excellent and free. Imagine Asana+Trello+Dropbox+Slack in one with basic client management, quotes and invoicing. That's Bitrix24."
More about Bitrix24's pricing information and feature list
Division of Labor
One of the most important parts of remotely managing a dev team (and other freelancers) is clearly laying out who is responsible for doing what, which cuts down on confusion and down time. Our own Codementor team, as well as several contributors, use these apps below!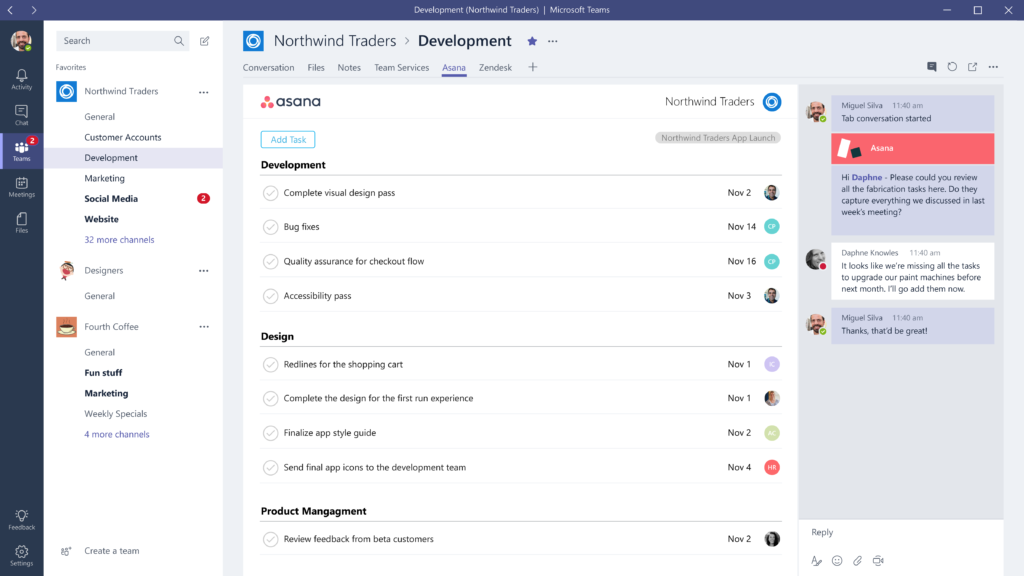 Asana is a personal favorite for Codementor team members. Favorite features include the ability to keep track of things to do, assign tasks to other people, and set deadlines.
These features allow our team members to organize their work and easily keep track of day-to-day tasks. Finally, Asana gives a clear overview of events and is easy to navigate, which project managers with a remote team should appreciate.
One reviewer praises Asana for its ease of use and incredibly intuitive layout, while another loves Asana's mail follow up and notifications.
One freelancer, in particular, was impressed with "Asana's support for tonnes of integrations" including Time Doctor, a time tracking tool to measure workplace productivity, and the fact that it "allows you to manage team projects very easily, which is helpful for complex projects with members working in different locations."
Sounds perfect for managing freelancers or a remote team, no?
More about Asana's pricing information and feature list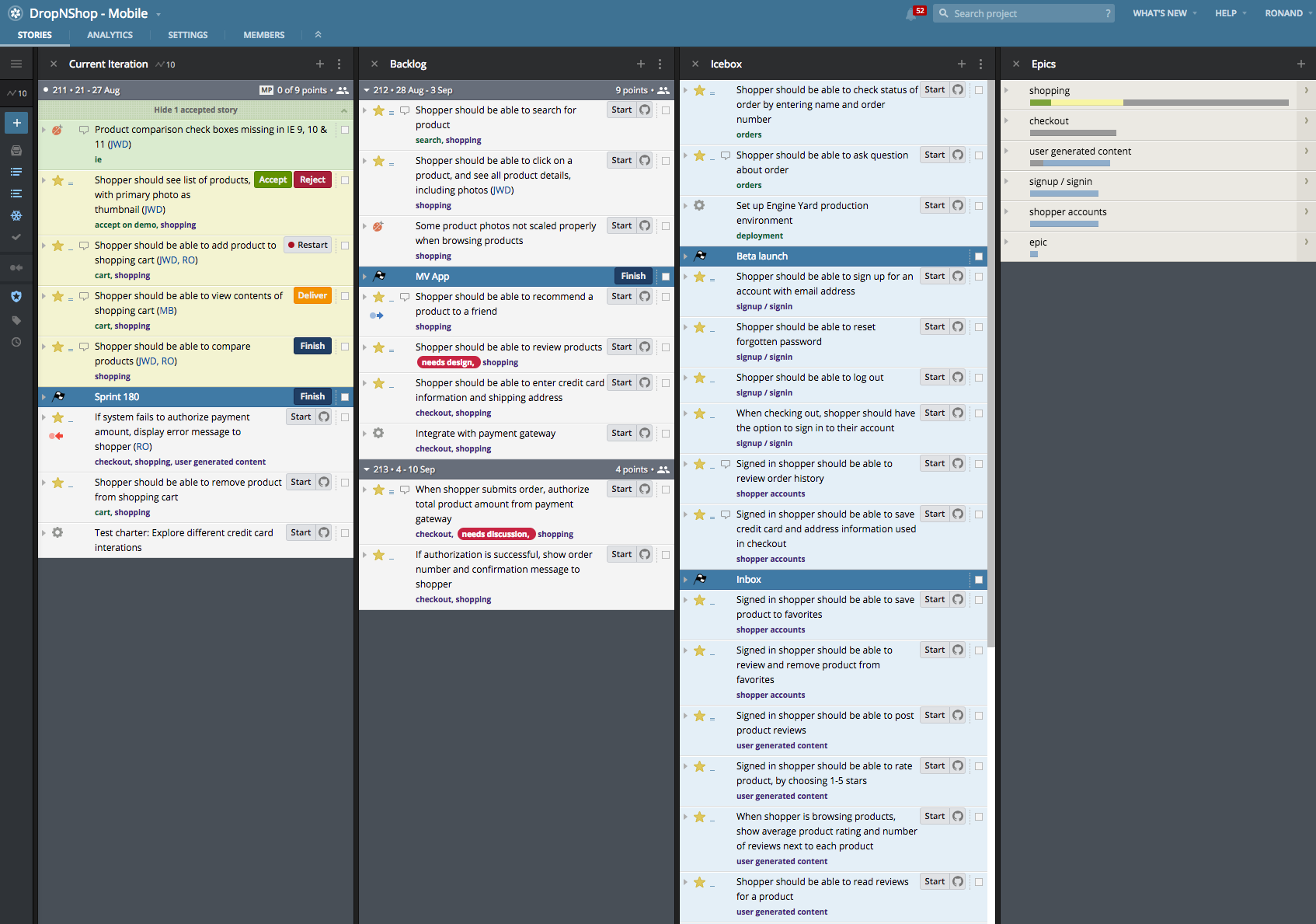 Pivotal Tracker was conceived "in order to meet [its founders] own project management requirements and has been described as being "designed for use in agile software development and is best suited for that purpose."
Pivotal Tracker came recommended by Codementor users Jules Piccotti, whose company uses it to track all development work, and Scott Schmalz, who calls Pivotal Tracker his "personal favorite."
For Pivotal Tracker, as an Agile tool,
The software focuses on simplicity above all else. Work is broken down into small deliverables and scheduled according to the rate of past performance. It is intended to "accelerate development, reduce risk, and increase responsiveness to market trends."
For Agile teams and project managers, Pivotal Tracker's ability to track work by rate of past performance, makes it particularly useful for keeping track of remote team members and freelance developers.
More about Pivotal Tracker's pricing information and feature list
Azendoo is a great option for managing projects — it is flexible enough to adapt to your PM methodology or custom workflows, and can be used to work with clients, thanks to its guest feature.
Task management is easy yet powerful in Azendoo. Tasks can be viewed in lists, board, or calendar views, and shared across multiple projects.
One enthusiastic reviewer said:
Being able to assign tasks to yourself, others, or teams, with due dates, followers, and explanations is amazing! Most of our company's improvements, whether it be an accounting system change or new equipment install, are tracked through Azendoo now.
Team communication, based around threaded conversations, can also be handled in Azendoo,
which integrates many other tools like: major cloud sharing solutions, team chat, and video calling apps, as well as Zapier, to connect to over 1,000 other applications.
One user noted, "Azendoo allowed us to reduce our email volume by 50-60%, so I want to keep that momentum going! We are 1,200 collaborators, so it takes time to get everyone involved. Azendoo's simplicity helps gradually grow the number of collaborators that are using it daily."
More about Azendoo's pricing information and feature list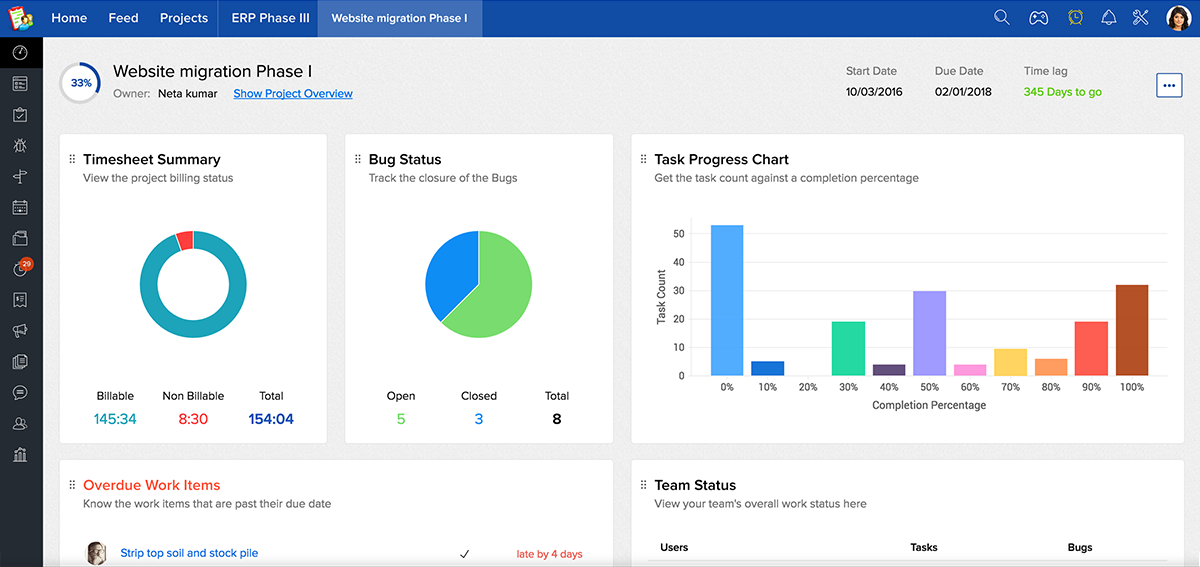 Zoho Projects features an "intuitive, clean, and up-to-date appearance on its website." Zoho Projects has a live, built-in chat component so you can create chats with multiple people, including freelance developers and remote team members.
Unlike other tools, Zoho Projects' chat transcripts can be archived for easy retrieval, so records of team decisions are never lost. Team members, freelance developers, and project managers can customize their dashboards to show whatever charts or updates are important to them, making working together in separate locations easier than ever.
One reviewer was especially happy with Zoho Projects' features, noting,
What I like best about Zoho Projects is that I am able to input all of my tasks for myself and my team into one portal. I am also able to comment on the tasks and see their productivity or ask them questions and input information. We are also able to to put a due date on there and it tells us what tasks are overdue.
Another user pointed out that "the key function that made us choose Zoho over another platform was recurring tasks. Those are a must for us, and most other products lack that option."
More about Zoho Projects' pricing information and feature list
Easy Breezy Productive User
While ease of use is in the eye of the beholder, several people have noted that these tools are customizable and easy to integrate with other tools.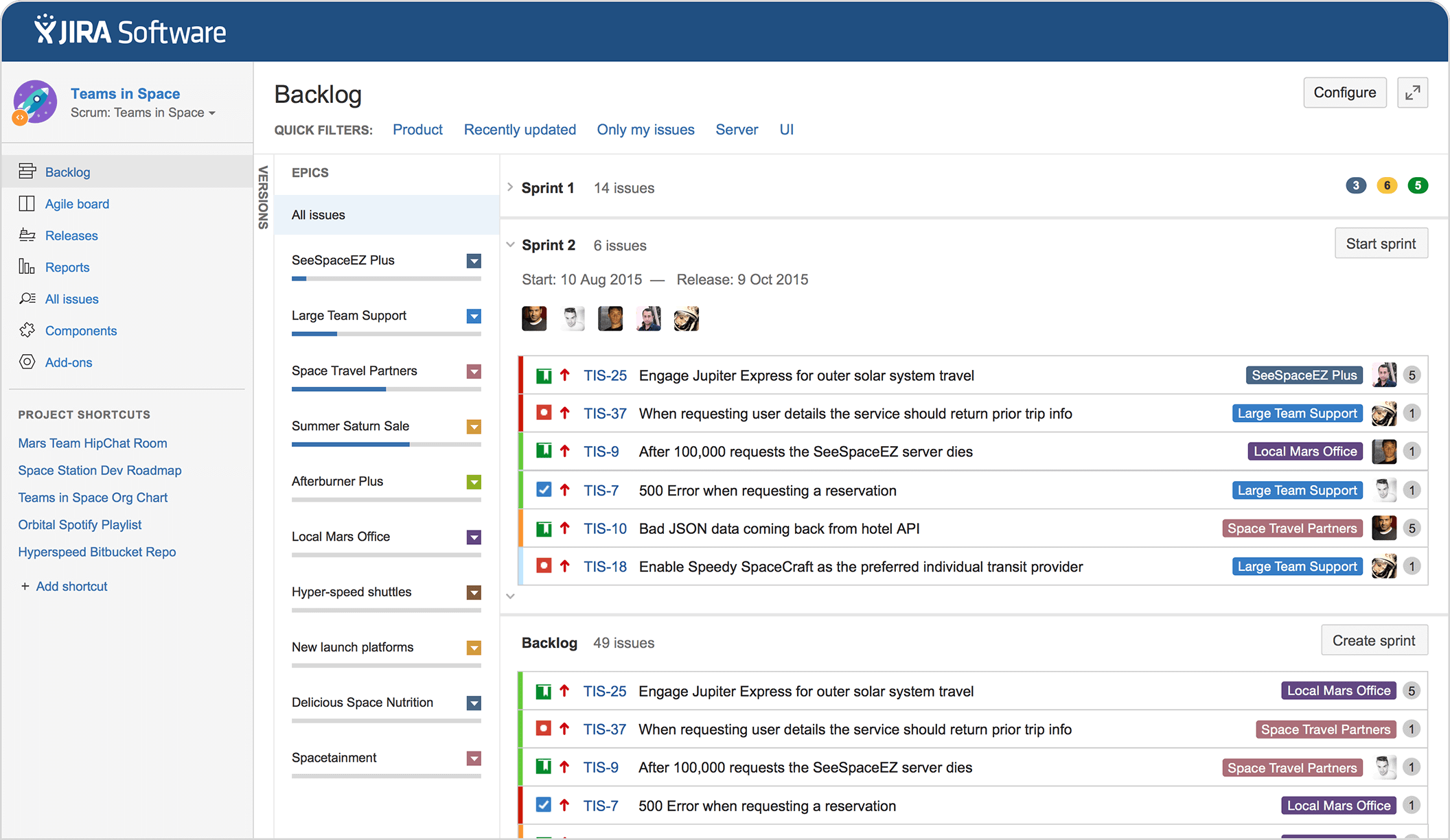 JIRA is particularly useful for Agile teams — although it can be adapted for use by non-Agile teams too — because it gives project managers the ability to create customized workflows for their working style.
Using JIRA, managing a remote team or working with freelance developers can be done with scrum boards, Kanban boards, developer tool integrations, integrated APIs, plug-and-play add-ons, roadmap planning, and Agile reporting.
With this amount of flexibility (and scalability) in one project management tool, it's a one size fits most solution to managing Agile (and non-Agile) projects.
Factmata, a CodementorX client, uses JIRA. Scott Schmalz also uses JIRA, and says that "if you're using the whole Atlassian suite, then the integrations with Jira are fantastic."
Codementor Taguhi Abgar discusses his team's use of JIRA in detail, saying,
We were using Scrum methodology... Every developer changed the "state of" sticker in Jira… so everyone could see the changes. It helps both to stay focused and see the bigger picture. It was quite efficient. Jira also has functionality to show burndown charts which helps your team to see if you will provide your product on time or run out of deadlines.
More about JIRA's pricing information and feature list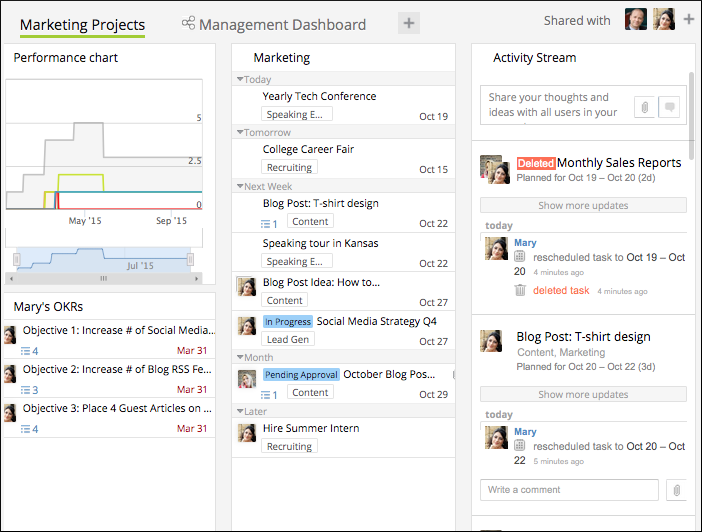 Wrike offers both project and work management in a easy to set up package. While project managers can use Wrike to assign tasks, give deadlines, comment, and upload files, their team can create their own folders (and subfolders) for ongoing work that can be kept private.
Wrike also offers the ability to pin and keep notifications on the screen, so users can see their notes without having to switch screens, perfect for those with multiple projects.
Wrike users have noted that some of their favorite features were the tasks-subtasks with dependencies, time tracking, custom fields, and ability to share information with others.
Wrike also offers different strokes for different folks — as one user notes,
I love that it's fast to create 'research folders' and convert them to full projects and then have them available in "Board View" while my coworker like to see a list view. I work best with Board view and this is the first project I've found that really allows the Boards to function correctly while also providing other view interfaces into it.
More about Wrike's pricing information and feature list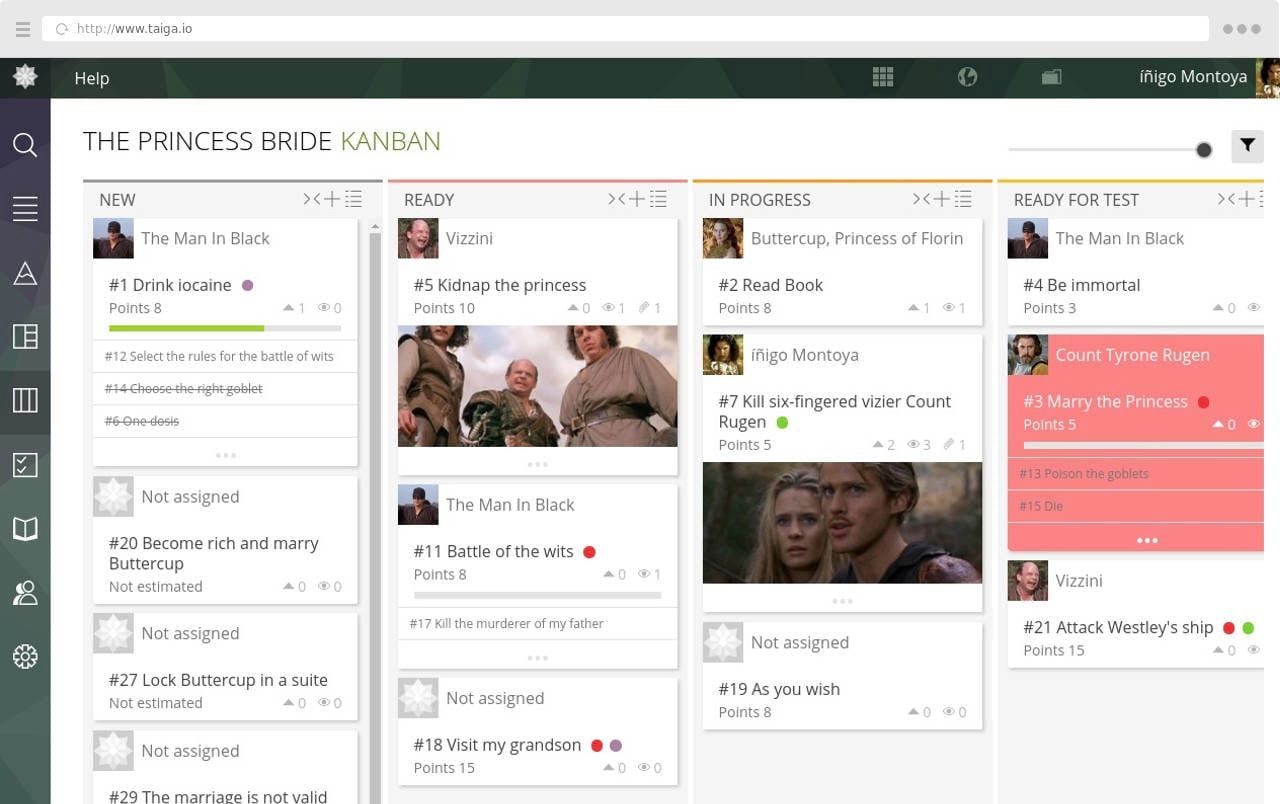 Taiga markets itself as Agile, Open Source, and easy to integrate with other tools. For project managers who prefer Scrum and Agile, Taiga offers project backlogs, Kanban views, and status views for multiple projects, which lets them easily keep track of team members, freelancers, and projects.
The most noteworthy feature of Taiga, however, is its emphasis on community. For startups or businesses that want their work to be seen, Taiga offers unlimited project management for free for public projects — where people can see, follow, and contribute to your work — and private projects, where your work is kept private.
Users are generally pleased with Taiga, lauding its beautiful design, ease of use, and ability for project managers and clients to follow up with developers.
One user noted his favorite aspect of Taiga as,
What I like most is that the programmer must indicate when a task is in progress or it's finished. It allows us to know the development time of each task and is also super useful because you can add the client, [who] can see how the development of your project is and follow up.
More about Taiga's pricing information and feature list
Go Forth and Organize
While there are many more project management tools out there and more being created every day, hopefully these nifty tools gave you some new ideas on how to organize or even reorganize your next project. Whether it's sprinting with a remote team, working with freelance developers, or simply organizing a big project, these tools give project managers customization, flexibility, and different options for prices that (generally) don't break the bank.
What other project management tools do you know of that fit the bill for value, ease of use, organization, and/or all of the above? Let us know in the comments!