Of the two main mobile operating systems, iOS is the second most used among consumers, with Android taking the top spot. While iOS may hold less global market share, evidence suggests it is preferred by mobile app developers and companies seeking to grow profits.
According to a Flurry Analytics report, seven of ten apps developed are for iOS, with over 2.2 billion apps available in Apple's App Store. A primary reason for a greater number of iOS Apps is the superior revenue potential. Thanks to the iOS market catering mainly to high-income countries in North America and Europe, iOS apps earn up to 75% more profit than Android apps. Higher profits mean higher income for developers.
Another reason iOS is the favored platform is the ease of development. Apps intended for Apple devices are developed in the Xcode IDE environment with Objective-C or Swift — since there are a limited number of Apple device sizes, as well as a universal UI, iOS apps can be developed without the extensive fragmentation problems experienced by their competitor.
To build a successful iOS app, you will need an experienced app developer familiar with the technologies you want to use. To help startup founders and hiring managers who plan to recruit skilled iOS app developers, this article will cover the following sections:
iOS Developer Salaries
iOS Freelance Developer Rates
Popular iOS Libraries
iOS Developer Communities and Networks
iOS Developer Job Descriptions
iOS Developer Interview Questions
iOS Developer Salaries
To recruit the right tech talent, you will need to offer salaries consistent with market rates at the experience level you are looking for. To that end, this section will go over national and state salary averages, as well as freelance rates for iOS developers.
iOS Developer Salaries in the USA
Data from Indeed's salary pages tell us the average salary of U.S.-based iOS developers sits at $115,265.
Average Salary By State
Average salaries vary across states and depends on the ratio of talent supply to demand, the cost of living, hot/cold markets, and more. Here is a list of iOS developer salaries in states with tech hubs or a high ratio of software engineer job openings.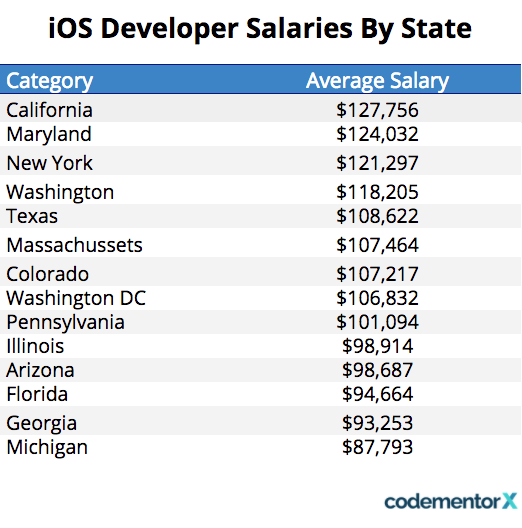 iOS Developer Freelance Rates
A few months back, Codementor completed an extensive data project to figure out how much freelance developers cost around the world based on tech stack, country, city, and years of experience. According to the survey of over 5,000 freelance developers, the average rate for a freelance iOS developer is $66/hr.
Note: this survey included participants from six continents, spanning countries with different time zones, languages, and income levels. Developers in North America, Australia, New Zealand, and Western Europe can command much higher rates, at more than $100/hr.
Here we'll briefly go over monthly and annual salary estimations for freelance iOS developers.
Freelance iOS Developer Monthly Average Salary
40hrs/Week x 4 Weeks = 160 Hrs
160 hrs x 66 = $10,560 Per Month
Freelance iOS Developer Annual Salary
$10,560 x 12 Months = $126,720 Annually
In some markets, the more cost-effective option seems to be hiring a full-time onsite iOS developer. However, keep in mind that non-salary benefits and indirect costs substantially increase actual expenditures on traditional employees. When making hiring decisions, you also need to consider the needs of your project, and whether or not your app will require future updates and ongoing support.
Read this post for more on the Cost of Hiring Full-time vs. Freelance Software Engineers.
Popular iOS Libraries
When building iOS apps, mobile app programmers often rely on libraries to increase the speed of development and stick to clean code practices. You may already be using certain libraries for your iOS project, or you may go with your developer's preferred stack. Using most downloads as a metric, here are the top five iOS libraries.
AFNetworking
AFNetworking is an all-purpose networking tool that uses blocks and Grand Central Dispatch. It has a modular architecture built on top of the Foundational URL Loading System. The library is compatible with iOS, macOS, watchOS, tvOS.

SDWebImage
This is an async image downloader with caching support. This library is popular because it makes the task of downloading and caching images much easier. Its UIkit also has some helpful features, like: UIImageView, UIButton, and MKAnnotationView.

Cocoa Lumberjack
Cocoa Lumberjack is a simple but powerful logging framework for Mac and iOS. The framework is ideal for remote logging, logging to a local file, writing to multiple loggers, and creating different log levels.

Alamofire
Alamofire is an HTTP networking library similar to AFNetworking but written in Swift. It is built on top of Apple's Foundation networking stack and gracefully wraps networking mechanisms in Swift.

MBProgressHUD
MBProgressHUD is library that serves as a progress indicator for your app. It displays translucent HUD with labels as a substitute for the undocumented private UIkit — UIProgressHUD. MBProgressHUD supports both Objective-C and Swift.
iOS Developer Communities and Networks
Online iOS programming communities are a great place to get all of the latest news and updates on iOS app development. You can also find forums to ask specific questions about your project and build relationships with developers you may be able to later recruit.
In addition, some communities offer rankings of most active users or users with the most upvotes. You can use this feature to identify software engineers who are enthusiastic about app development and are proactively expanding and sharing their expertise.
The section below will also include a list of iOS-focused meetups and conferences in case you want to step away from the computer to learn and network.
iOS Communities
iOS Developers Slack Community
This is a Slack community of 20,000 members who are passionate about iOS app development. The group is committed to cultivating a welcoming and inspiring community for like-minded developers and entrepreneurs.
Apple Developer Forums
The Apple Developer Forums are a great place to share comments and post questions for other developers. To use the forums, you will need an Apple developer account. You can choose to follow certain forums and subscribe to particular threads to receive updates.
MacRumors Forum
Here you can get news, stats, and updates relevant to iOS app development. The site features informative blogs for iOS and Mac, a buyer's guide, and an extensive selection of developer forums.
Ray Wenderlich Forums
This is an extraordinarily useful site that has tutorials, videos, podcasts, and forums on everything from Swift to OS X, Sprite Kit, and Unity. We have also referenced this site in composing this guide. (Thanks Ray!)
iOS Developer Forums
True to its name, this site is packed with iOS related forums, including game development, iOS tutorials, App submission help, Xcode tips and tricks, and much more.
iOS Programming Subreddit
Boasting more than 37,000 Redditors, in this subreddit, you can find articles, code samples, open source projects, and discussions related to iOS app development. The r/iosProgramming subreddit even links to a GitHub wiki for iOS programmers.
Stack Overflow - iOS Tag
Stack Overflow is the first place many developers turn to when they need answers or have questions, and iOS development is no different. You can easily see who the most active users are and monitor answers with the most votes. For language specific questions, you can visit the Stack Overflow tags for Objective-C and Swift.
Iphone Dev SDK
This community features a number of forums, including iOS SDK Development, Code Reviews, Tutorials, Help Wanted, and much more.
iOS Developer Newsletters
Browse and subscribe to iOS focused newsletters to get tutorials, videos, news, and event notifications. Newsletters are also a potential outlet for hiring managers to share their job opportunity with a wider community of developers tuned into the iOS community.
iOS Developers Slack Newsletter
iOS Dev Weekly
iOS Development Newsletter
iOS-goodies
Indie iOS Focus
AppCoda Weekly
Awesome iOS
Swift Developments
Swift Weekly
Weekly Cocoa
iOS Meetups and Conferences
Ready to get out into the real world, exchange ideas face-to-face, and listen to knowledgeable speakers share about the latest technological updates and schools of thought?
Great, you will have plenty of chances! There are over 2,500 iOS Development Meetups around the globe, and thousands of others on mobile development, Objective-C, Swift, mobile technology, and more. Find one in your area and join the community of developers and founders enthusiastic about iOS app development. Meetups are a great way to meet knowledgeable people in your locality and build long-term partnerships.
If you would prefer big-name speakers with packed auditoriums, hands-on workshops, and networking fueled with snacks and cocktails, consider a trip to one of the domestic or international iOS related conferences.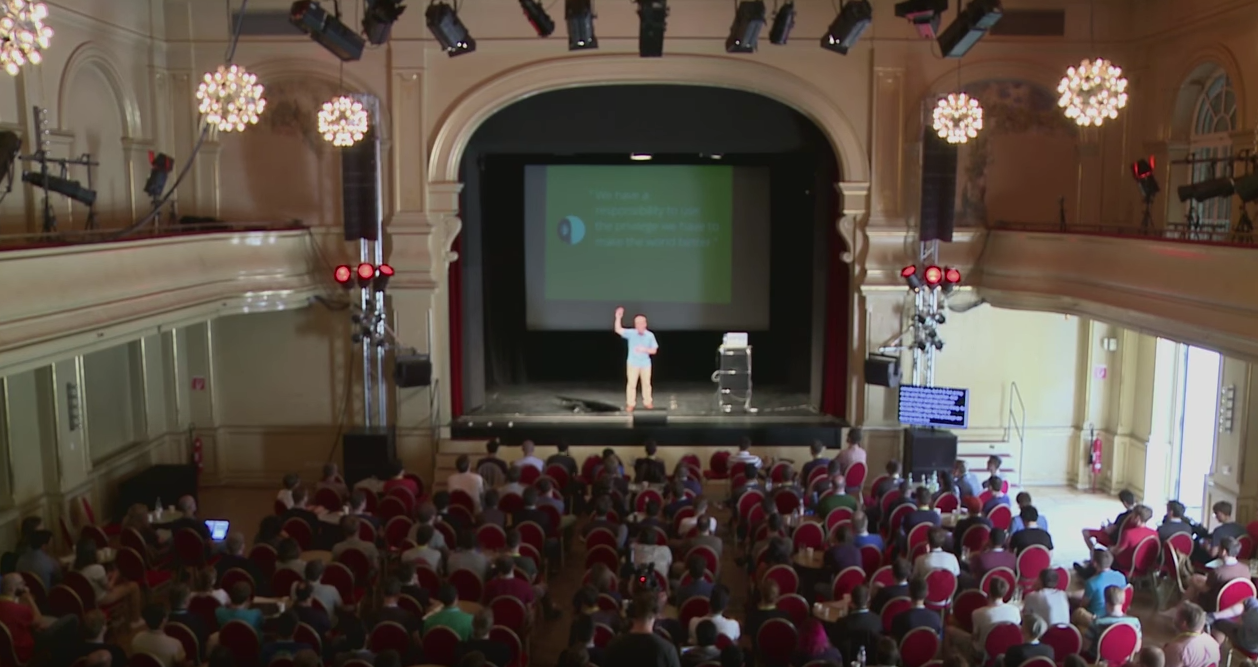 U.S. Events
WWDC18 - San Jose, CA (June 4-8)
Altconf- San Jose, CA (June 4-7)
Try!- San Jose, CA (June 8th)
SwiftFest- Boston, MA (June 18-19)
iOSDevCampDC- McLean, VA (July 18)
360iDev- Denver, CO (August 26-29)
Try! Swift- New York City (September 4-5)
International Events
App Builders- Lugano, Switzerland (April 16-17)
UIKonf- Berlin, German (May 13-16)
SwiftAveiro- Aveiro, Portugal (June 21-22)
SwiftIsland- Netherlands, Texel (July 4-5)
iOSDEVUK- Aberystwyth, UK (September 3-6)
Swiftconf- Cologne, Germany (September 19-20)
Pragma Conference- Verona, Italy (Usually October - TBD)
NSSpain- Logroño, Spain (Usually September - TBD)
Swift Alps- Crans Montana, Switzerland (Usually November, TBD)
Try! Swift- Bangalore, India (November, TBD)
Tailor Your iOS Developer Job Description
A job description is like a branding message for your company, and it needs to convince candidates to give your job opportunity a shot. The job description should reflect the values and culture of your company — in fact, it wouldn't hurt to include a mission and values section in the job post itself.
While there is no single template for a job description, there are five basic sections each job post should include. They are as follows:
Job title, location, type of employment (full-time, part-time, etc.), salary range
Company overview, vision, mission statement, and culture
A detailed list of day-to-day responsibilities
Required skills
Benefits and perks
You'll need to customize these core components of the JD for your company and the skillset you are looking for. Be specific to diminish the number of unqualified candidates that respond to the post. Emphasize the technical experience you require, such as familiarity with Objective-C, or Swift 3.0, or knowledge of certain libraries like AFNetworking, ReactiveCocoa, etc.
To give you a better idea of how to build your job description, below we present an example of a good job description that is likely to serve as an effective initial filter for the candidate pool, and one example that could be improved.
Pretty Good!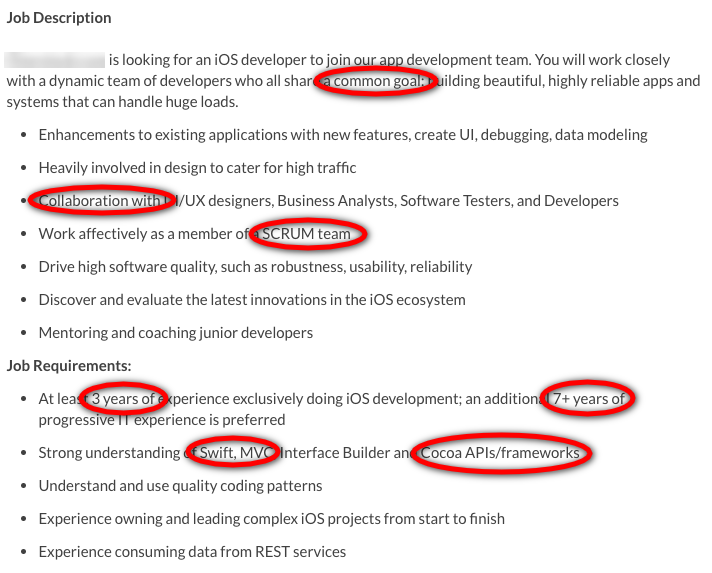 This is a strong job description that lays out in detail the knowledge background expected and the tasks to be performed. Candidates viewing this post will know which teams they will collaborate with, the working style (SCRUM), and the specific types of responsibilities they may have, such as debugging and data modeling of existing apps. Since the job description lists specific technologies to be used and the number of years of required experience, candidates will also know if they are qualified for the position. Lastly, engineers interested in this job can get a sense of company culture based on the "common goals" shared in the post.
Could Be Improved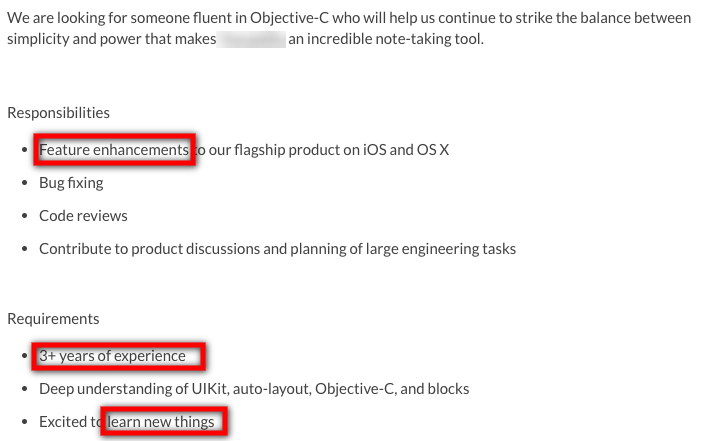 This job description simply lacks specificity. While the job description mentions a few technologies like Objective-C and UIkit, it does not say how many years of experience are required with said technologies. Likewise, job responsibilities like "feature enhancements" could be any number of things, and leaves the candidate wondering what they will actually be working on. A requirement to "learn new things" is a good start, but gives no hint as to what skills the developer will be expected to build or what projects they might work on.
This job description could be improved by specifying which development tasks the programmer will be responsible for, which teams they will be working with, including more specific knowledge and experience requirements, as well as explaining more about the product and the goals/vision of the engineering team and company.
iOS Developer Interview Questions
Every software engineer should possess the ability to collaborate across departments, communicate with technical and non-technical team members, and be able to explain problems and solutions.
Beyond checking for these qualities during the interview process, you'll need to evaluate candidates' technical knowledge specific to iOS development.
To help you do so, here is a list of iOS-focused interview questions.
What was the latest version of iOS you have worked with? What do you like about it?

Have you worked with Swift? What do you like about it? What don't you like about it?

What is method swizzling in Objective-C and why would you use it?

How is memory management handled on iOS?

Can you explain the difference between Delegate and KVO?

How do you serialize data on iOS (JSON from the web or local app data to Core Data and other storages)?

What is the difference between viewDidLoad and viewDidAppear? Which should you use to load data from a remote server to display in the view?

What is a protocol, and how do you define your own? When is it used?

What are blocks and how are they used?

What mechanisms does iOS provide to support multi-threading?
For answers to these interview questions and more, check out these two posts:
iOS Interview Questions For Senior Developers
20 iOS Developer Interview Questions
Recap
With the mobile app market continuing to swell, it's key that startup founders and managers recruit top iOS developers to help them bring the right product to users.
To recap, these four steps will put you on the path to partnering with the talent you need.
With the tips supplied in this article, you are now ready to embark on your journey of recruiting and hiring the top iOS developer(s) you need to build your app!
Looking to hire an iOS developer? We have a pool of pre-vetted candidates available at CodementorX.Talk to us now!