According to Glassdoor's 2017 study on the tech job market, a growing number of employers in finance, retail, manufacturing, and other traditional industries (12 percent across all industries) have ramped up hiring for tech roles. Not only that, a growing share of tech hiring today is happening far from Silicon Valley.
This means that software engineers have more options than ever before when it comes to where they want to work. For those on the fence about where to move, we surveyed CodementorX freelance developers to see what they considered important when choosing a city to live in — and used this criteria to rank U.S. cities based their potential to make software engineers happy.
While salary was important for most of our devs, the majority of the developers noted that social interactions with likeminded people (at casual, informal developer meetups), as well as real earnings had a larger impact on their happiness level than salary alone.
Therefore, to give readers as many options as possible, we looked at one city from every state — plus Washington, DC — and tallied the number of meetups each city hosted, the cost of living, and salary, to determine which cities in the United States are the happiest hubs for software engineers.
TL;DR: our results as a map, with the top five discussed in more detail below. For details on how we calculated the rankings, you can read more about our methodology here.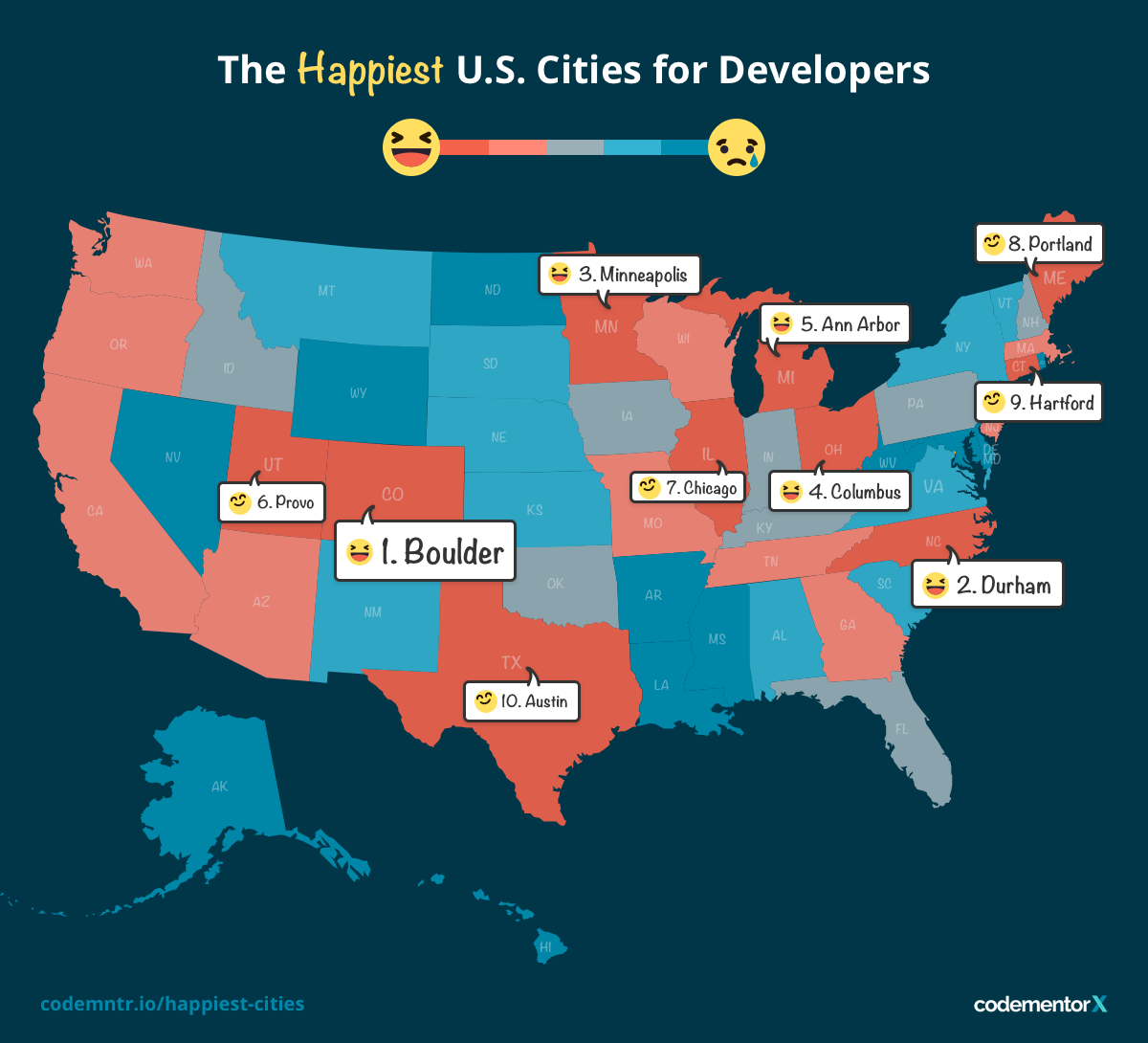 Top 15 Happiest Cities for Software Engineers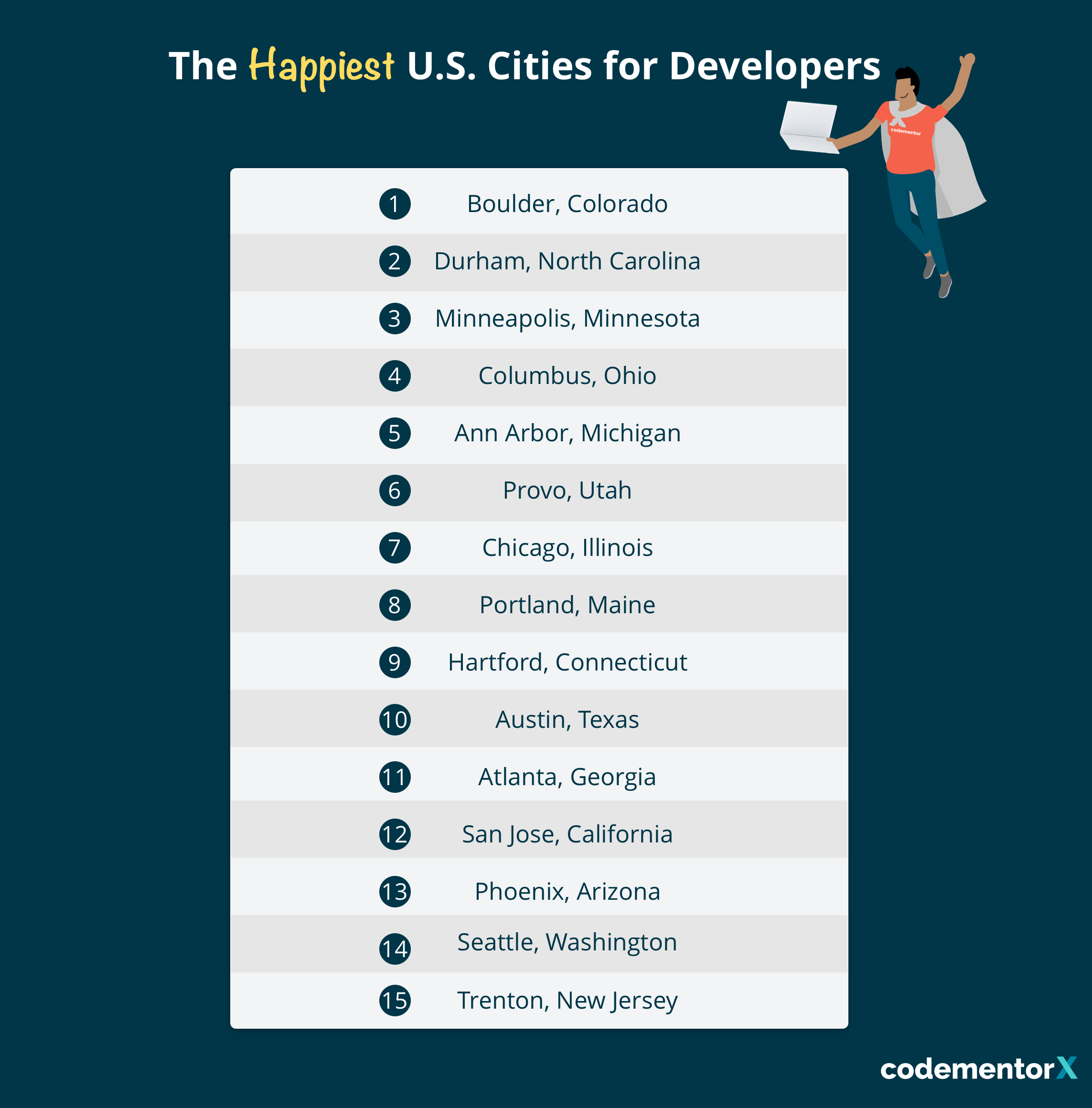 1. Boulder, Colorado

Boulder, the eleventh most populous municipality in Colorado, topped our list of the Happiest Cities for Software Engineers because of its potent combination of meetups, cost of living, and salary.
While rent is relatively expensive, the cost of living in Boulder is relatively low compared to other cities in the West (and offset by a relatively high salary). While a cappuccino might be a little pricier in Boulder, beer lovers will enjoy relatively low prices.
What's more, Boulder has something for everyone — the high number of meetups in Boulder, including DevOps Boulder and Boulder Python, means that software engineers who enjoy an active social life have the option of going out and meeting people in the city ranked the Happiest City in the United States by National Geographic, while those who aren't social butterflies can enjoy inexpensive Internet from the comforts of their quiet homes.
Techstars, SendGrid, Backflip Studios, Ball Aerospace, LogRhythm, and JNBridge are all based in Boulder, Colorado.
2. Durham, North Carolina

Durham, North Carolina, is the fifth most populous city in North Carolina, and home to Duke University.
If Boulder, Colorado migrated to the East Coast, cut rent by 30%, reduced internet prices, and served sweet tea, it might look a little like Durham, North Carolina. For developers after a more laid-back life, Durham provides just enough meetups to meet new and interesting people without feeling smothered.
The number two city on our list is very affordable for software engineers. While the salary in Durham is a little lower than in Boulder, the salary to rent ratio in Durham is very favorable. Adding to potential savings, the price of internet in Durham is the second-cheapest on the list, which means that software engineers who choose Durham could live the high life for a lot less.
Duke University, IBM, Blue Cross, Fidelity Investments, and Bronto Software all have a significant presence in Durham, North Carolina.
3. Minneapolis, Minnesota

Minneapolis, Minnesota is the second largest economic center in the Midwest and sixteenth largest metropolitan area in the United States.
Minneapolis, the biggest city on the list so far, boasts very affordable beer, in addition to a healthy number of meetups. In fact, it's the city with the least expensive beer in the top five, so city-loving beer aficionados might consider packing their bags for Minneapolis.
While the salary in Minneapolis is lower than in Boulder and Durham, going out with new Meetup friends sets you back far less in Minneapolis — as long as it's over beer and not a cup of coffee. In addition, rent and internet are both affordable in Minneapolis, so for software engineers who prefer bigger cities, Minneapolis is a good compromise of rent, salary, and an active social life.
Minneapolis boasts America's tenth-highest concentration of Fortune 500 companies: including Target, U.S. Bancorp, and Ameriprise Financial, as well as the Federal Reserve Bank of Minneapolis.
4. Columbus, Ohio

Columbus is the most populous city in Ohio, the fourteenth most populous city in the United States, and home to The Ohio State University.
For software engineers who really love big cities, Columbus, Ohio might be a good fit. Columbus, twice the size of Minneapolis, features even cheaper rent than Minneapolis, though with fewer meetups, and cheaper coffee.
Although pay in Columbus is slightly lower than pay in Minneapolis, developers whose favorite activity is meeting people over a cup of joe will love Columbus, Ohio. Besides having the most affordable rent and the most affordable cappuccinos in the top five, Columbus is a good balance of affordability and sociability — meeting and hanging out with new friends in Columbus definitely won't break the bank.
Nationwide Mutual Insurance, Cardinal Health, L brands, Big Lots, and American Electric Power are all headquartered in Columbus, Ohio. In 2016, Money Magazine ranked Columbus as one of "The 6 Best Big Cities."
5. Ann Arbor, Michigan

Ann Arbor, home to the University of Michigan, is the sixth largest city in the state.
Developers who like the idea of living in the Midwest but aren't into big cities might consider Ann Arbor, Michigan, which hosts more meetups than Columbus and Minneapolis — despite having a smaller population — has a small to medium-city feel, and smaller city costs.
Overall, Ann Arbor is solid when it comes to the cost of living and meeting new people to talk about the latest tech trends. While the salary for Ann Arbor isn't astronomically high, the lower cost of living offsets the comparatively low salary for developers who like to indulge in caffeine and alcohol, both of which are very affordable. To sum up, software engineers who like the Midwest, smaller city vibes, affordable cappuccinos, beer, and internet, should definitely consider moving to Ann Arbor, Michigan.
Duo Security, Google Adwords, Arbor Networks, JSTOR, MediaSpan, and ProQuest are all located in Ann Arbor.
From Provo, Utah to Austin, Texas

Provo, Utah hosts a fair number tech meetups to meet other like-minded software engineers — for the socially inclined — and the cheapest internet of all of the cities we surveyed — for those who prefer to socialize behind their screen. The affordable beer and cappuccinos there is just icing on the cake for Provo, Utah.
Chicago, Illinois is the most populous city in the Midwest, third most populous city in the United States, and fifth overall for meetups hosted. While Chicago is less affordable than the cities above, developers who love the excitement of big cities, museums, culture, sports, and meeting others who also love technology can consider moving to Chicago.
Portland, Maine, namesake of Portland, Oregon, owns the title of lowest cost of living on this list. It boasts the cheapest rent in addition to moderately priced internet and beverages. If you love nature, lobsters, and super cheap rent and internet, Portland, Maine is the city for you.
Hartford, Connecticut is among the oldest cities in the United States. Hartford's strengths lie in its salary and cappuccino scores — the sixth highest salary and fifth least expensive cappuccinos on the list, respectively. Its high salary and the price of caffeine offsets the higher cost of living in other areas. For software engineers who can't function without their coffee, Hartford might be the happiest place on earth.
Austin, Texas rounds up our top ten Happiest Cities for Software Engineers. Austin ranks eighth place for meetups and has very affordable beer. Socially inclined developers will love the increased opportunities to meet people in Austin, including students and professors from the University of Texas, excellent barbecue, and cheap beers, all funded by a healthy paycheck.
Cities With the Most Meetups

Three of the cities — Atlanta, San Jose, and Seattle — with the most meetups narrowly missed the top ten. While the pay for these cities is incredibly high — among the highest on the list — the cost of living in these cities is also among the highest, particularly when it comes to rent. That being said, software engineers who love attending meetups and getting to know new people can enjoy a packed social calendar in these cities, in exchange for forking over more disposable income on housing and beverages. If coastal living, high pay, and meeting new people appeals to you, one of these cities might make you a very happy software engineer.
Cities With the Lowest Cost of Living

The Midwest certainly dominated the category of cities with the lowest cost of living. While the number of meetups and the salary paid in these cities was lower, bringing down their overall rankings (only Louisville, Kentucky is in the top 25), it's undeniable that the cost of living in the Midwest is great for software engineers, particularly remote developers who don't need to worry about being paid the local salary. For software engineers who don't enjoy schmoozing, or for those who like the quiet life, these cities are a good bang for your buck when it comes to rent, internet, and caffeine costs.
Methodology
Rather than selecting only the top 50 tech cities across the United States, we chose one city from every state, plus the District of Columbia, to give each state a chance to showcase their advantages and vie for a position as a new up-and-coming city for developers.
We wanted to include states that might have a lower cost of living, as well as future potential, that may not show up on a list of traditional tech cities just yet. To do this, we referenced Nerdwallet's data from their "Best Places for Tech Jobs" article and chose the top-performing city in each state for our list.
We then used the annual median wage (with data from the Bureau of Labor Statistics May 2016 Metropolitan and Nonmetropolitan Area Occupational Employment and Wage Estimates) and median gross rent (2016 U.S. Census American Community Survey) from Nerdwallet's methodology section to rank each city.
For cost of living information, we looked at the price of beer, a cappuccino at a restaurant, and internet on Numbeo's Cost of Living Calculator. If there wasn't data for a top-performing city in a particular state, we replaced it with the next best-performing city in that state with cost of living data on Numbeo.
One way for software engineers to talk shop and make friends in a city is to attend meetups. As a measure of potential social life, we used Meetup.com to tabulate the number of Tech Meetups per city in March 2018.
We chose meetups as a way of measuring social life because they're an informal way of gauging the liveliness of the local tech scene, provide an environment for professional development, and can give developers space to meet like-minded people with common interests.
We then weighed these three factors based on the results of our developer survey and ranked these cities based on their potential to influence developer happiness. See the raw numbers that we collected here.
Conclusion
Although we didn't look at every major city in the United States, due to time and space constraints, our results show that there are plenty of cities with immense potential ready to be discovered, and that future tech hubs may not always pop up where you'd expect.
While traditional favorites like San Jose (14th) and Seattle (16th) made the list, up-and-coming cities in the Midwest — Columbus, Minneapolis, and Ann Arbor — are giving them a run for their money because they provide many of the same professional and personal development opportunities at a fraction of the cost. This is good news for software engineers, because they're no longer limited to just tech hubs like Silicon Valley (and the high costs of living that accompany them).
In fact, many traditionally known tech cities were simply too expensive to live in comfortably, with high rent and an even higher cost of living. Cities like Phoenix (13th), Boston (20th), and Washington, DC (22nd), were too costly to properly enjoy, which is why they didn't make the top ten. However, with the rise of the Midwest as a new tech mecca, developers can afford to have their cake and eat it too.
Software Engineers who want to live where there are frequent meetups, low cost of living, and good pay have many options in the United States (and beyond). The world is your oyster — don't be afraid to consider a non-traditional city if you want to take the plunge and relocate — and let us know what other cities you'd recommend in the comments.