To create an interactive and user-centric web page, you'll need a front-end developer responsible for all client-side software development. They are responsible for website security, code quality testing, cross-browser and device compatibility, performance, and scalability, among other things. The sum of their work is bringing mockups to life for the end user.
Front-end developers need to be skilled not only in JavaScript, CSS, and HTML, but the intricacies of different frameworks and libraries, interface design methods, back-end APIs, and more. They also need to be strong communicators capable of working closely with designers and back-end engineers.
To help hiring managers find and recruit the best front-end developers for their job vacancy or projects, this article will go over the following sections:
Front-end Developer Salaries
To attract the right front-end developer, you'll need to offer compensation consistent with market rates.
Front-end Developer Salaries in the USA
To calculate the national and local average salaries for front-end developers, we use data from Indeed's salary pages.
Senior Front-end Developer
National Average: $101,747
Junior Front-end Developer
National Average: $61,784
Average Salary By State
Here is a list of front-end developer salaries for a selection of U.S. states with tech hubs or a high ratio of software development job openings.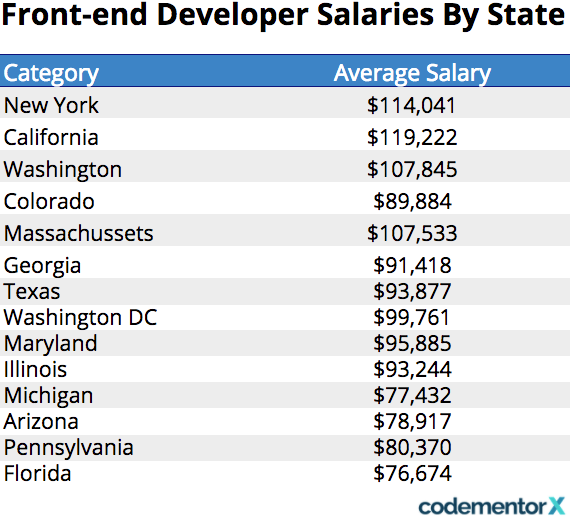 Front-end Developer Freelance Rates
According to Codementor's survey of over 5,000 freelance developers around the world, the average rate for front-end freelance developers is $61.50/hr. Note, freelance compensation rates will vary based on experience and geographical location. Skilled front-end engineers based in the U.S., Canada, Australia, or New Zealand can command much higher rates: at more than $100/hr.
Freelance Front-end Monthly Average Salary
40hrs/Week x 4 Weeks = 160 Hours
160 hrs x 61.5 = $9,840 Per Month
Freelance Front-end Developer Annual Salary
$9,840 x 12 Months = $118,080 Annually
With the average salaried front-end developer compensated at $101,747 annually, companies may be tempted to hire a full-time, on-site programmer. However, the value of paid benefits and indirect costs substantially increase the expenditure of hiring full-time employees. Be sure to do your homework on indirect costs before making a hiring decision.
Read the Cost of Hiring Full-time vs. Freelance Software Engineers for a more comprehensive cost comparison.
Most Popular JavaScript Frameworks for 2018
Front-end developers use JavaScript frameworks to code quality apps quickly and securely, while adhering to best practices. If you are using a particular JavaScript framework, you may want to your developer be familiar with it.
Using job openings as an indicator, React, jQuery, and Angular remain the most popular JavaScript frameworks. Other popular frameworks that may be suitable for your software development include the following:
Front-end Developer Communities and Networks
Recruiting a front-end developer with the right skills and experience can take a great amount of time and effort, so you'll want to take advantage of all of the tools at your disposal. These tools include online communities where front-end developers share information, teach, and learn.
Getting involved in front-end communities will allow you to better understand the latest developments in client-side software development, get news and updates in real time, plus build relationships with passionate developers who are serious about their craft. Programmers who are active in online communities are often open to connect, or able to refer you to friends and colleagues who may be able to work on your software development project.
Frontendrescue.org has compiled a great list of online communities, podcasts, newsletters and more, the most useful of which we have shared below.
In addition to virtual communities, we also present a list of front-end conferences where you can make connections in person.
Front-end Communities
r/Frontend
r/Frontend is subreddit for developers to share the latest tips, thoughts, and links on everything related to front-end development, including: HTML5, JavaScript frameworks, CSS/SCSS/LESS, prototyping tools, mobile design optimization, and more.
#frontendDevelopers - Slack Community
This is a Slack community for creative developers to exchange information, ask and answer questions, share work, and find gigs.
FEDs Slack Community
Front-end Developers on Slack is a community for top-notch developers to initiate conversations and get instant responses, exchange code snippets, rich links, and more.
Framework-specific Communities
Stack Overflow - JS Tag
Stack Overflow is often the first place developers go when they need quick answers to coding problems. The JS tag features moderated discussions, chat rooms, news, coding documentation, a ranking of the most active users, and more. You can see how knowledgeable developers are based on their answers to questions.
Js-jabber
JS-jabber is a weekly podcast about JavaScript, front-end development, community, careers, and frameworks. You can also suggest guests and topics for future episodes.
Reactjs.org
The community page for React provides all of the most useful links for: getting the framework's news, updates, discussion forums, courses, conferences, meetups, and more.
Emberjs.com
The Ember community page is a directory for all resources on the framework, including: Slack channels, discussion forums, news outlets, newsletter, blogs, etc.
Vuejs.org
This is a vibrant community focused around the Vue framework. Like other community pages, it includes learning resources, discussion forums, social media, dev tools, and much more.
Meteor.com
This Meteor page provides introductory guides, tutorials, news, question forums, an informative blog, and meetups.
Codementor/JavaScript
Codementor has a community of experienced front-end developers that share insights, tutorials, questions, and answers. You can use the JavaScript page to keep up with the latest trends and developments in the community.
Front-end Newsletters
JavaScript Weekly
Web Design Weekly
Front-end Focus
Smashing Newsletter
CSS-Tricks Newsletter
Sitepoint Newsletter
Responsive Design Newsletter
Front-end Rapport
A Drip of JavaScript
Front-end Meetups and Conferences
Even in the world of web development, offline, in-person networking can go a long way. Check out your local meetup communities for HTML, CSS, JavaScript, and web design events.
In addition, there are a number of both new and long-running conferences around the globe where top-notch developers convene, and the best minds in the industry share new innovations, up and coming trends, and research on the latest technologies.
These events are great opportunities to learn from the best in the biz and make connections with front-end programmers who are serious about staying on the cutting edge of web design and development.
If you're able to, try to make it out to an event in your region.
International Events
JSConf Iceland Reykjavik, Iceland (March 1-2)
UpFront Conf Manchester, UK (March 16)
iJS Conference London, England (April 11-13)
Front-Trends Warsaw, Poland (May 24-25)
JSNation Amsterdam, Netherlands (June 1)
BrazilJS Porto Alegre, Brazil (August 24-25)
Front/> Zurich, Switzerland (August 30-31)
ReactJS Day Verona, Italy (October 5)
ColdFront Copenhagen, Denmark (November 13-14)
U.S. & Canada Events
Confoo Montreal, Canada (March 7-9)
Typescript Conference Seattle, Washington (March 12)
Smashing Conference San Francisco, California (April 17-18)
NationJS Washington, DC (May 18)
O'Reilly Fluent Conference San Jose, California (June 12-14)
React Rally Salt Lake City, Utah (August 16-17)
Framework Summit Park City, Utah (October 2-3)
An Event Apart Orlando, Florida (October 8-10)
An Event Apart San Francisco, California (December 10-12)
Tailor Your Front-end Job Description
If you are not a large company, your job description may be the first time a candidate comes into contact with your organization. It's important that it leaves a good impression and provides the right information to attract the right talent.
There are five basic sections every job description should include. They are as follows:
Job title, location, type of employment (full-time, part-time, etc.), salary range
Company overview, vision, mission statement, and culture
A detailed list of day-to-day responsibilities
Required skills
Benefits and perks
You'll want to customize these sections to fit your specific company and software development project. For example, if you want to continue using ReactJS and Stylus styling sheets, you should use these keywords at the top of your requirements section to find developers with this specific skill set and experience. The more specific you can make your job description, the more likely you are to attract strong candidates that are a good fit.
Here are two examples of job descriptions, one with clear requirements, and one that could be improved.
Pretty Good!


This job description does a good job of immediately and briefly introducing the product and industry. It also lists a specific number of years of experience required, specific languages, frameworks, and CSS preprocessors that will be used for the company's web development. Front-end developers who read this job description will know if their experience, skills, and interests, qualify them to apply.
Could Be Improved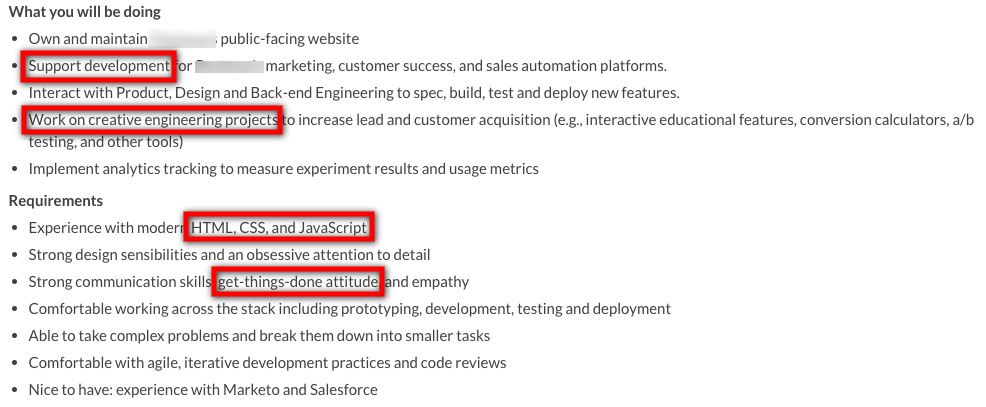 The responsibilities and requirements sections of this job description are too vague. Including job responsibilities like "support development" and "work on creative projects" should be obvious, but leaves the candidate with no information about the type of web development tasks the job actually entails.
In addition, without listing a certain number of years, preferred frameworks and libraries, the requirements section lacks specificity. Based on this job description, anyone with basic front-end development know-how may feel they are qualified to apply for the job. This will result in more work for the recruiter as they sift through a sea of unqualified candidates.
For more tips on writing your software engineer job descriptions, check out this post on Job Descriptions that Attract the Best Developers.
Front-end Developer Interview Questions
Once your awesome job description has attracted the quality developers you have been looking for, you'll need to put their knowledge to the test with a properly designed interview process.
You should first ask general questions to gauge communication skills, web development foundation, applicable experience, and interest in working with you. You should then delve into some technical aspects of front-end development.
To that end, here we've included a list of general questions, JavaScript questions, HTML, and CSS questions to help you build a bulletproof interview structure.
General Questions
Tell me about a project you're particularly proud of? What did you do that worked out well?
What's hard about coding?
How do you do testing? How would you improve QA?
When have you solved a problem that didn't involve you coding?
Have you ever worked directly with clients or been in a customer-facing role in the past? If not, would you like to?
For suggested answers to these questions and more, read this article outlining 19 Web Developer Interview Questions.
JavaScript Interview Questions
How do you organize your JavaScript code?
What is the difference between var, let, and const in JavaScript?
Explain prototype inheritance and method lookup.
What is a "closure" in JavaScript? Provide an example.
How does JavaScript event loop work?
For the suggested answers and more JavaScript Questions read 21 Essential JavaScript Interview Questions.
If you are hiring a developer with experience in a particular JavaScript framework, you should also include framework specific questions in your interview.
Here are some Angular and React interview questions to help get you started.
CSS Interview Questions
How can you integrate CSS on a webpage?
If you have 5 different stylesheets, how would you best integrate them into the site?
What do you do when a browser doesn't yet support a property?
What are the advantages and disadvantages of CSS, LESS, and SASS?
What is an embedded style sheet? What are the advantages?
Click here more CSS interview questions.
HTML Interview Questions
What's the difference between HTML elements and tags?
How do you serve a page with content in multiple languages?
Consider HTML5 as an open web platform. What are the building blocks of HTML5?
What is semantic HTML?
Is it possible to change the color of a bullet?
Click here for more HTML Interview Questions.
Recap
With few exceptions, every business reaches their potential customers with a web page. To bring the best user experience to your customers and potential customers, hire the best possible front-end developer.
Here are the steps to go about doing so:
You are now armed with a solid playbook to begin recruiting your front-end developer!
Looking to hire a front-end developer? We have a pool of pre-vetted candidates available at CodementorX. Talk to us now!