You've just embarked on your journey as a freelance developer. You've decided which freelance platform to use, passed the vigorous vetting process, and set your rate — or decided to launch your career independently.
Now, the only thing left to do is decide how you want to be paid for your work.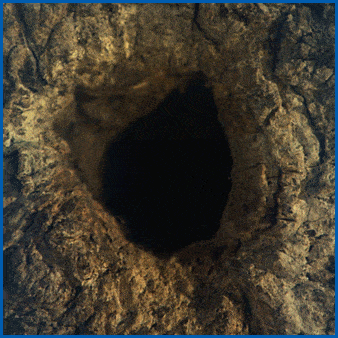 You have many payment options, but you're not quite sure what the differences are among them. Factors to consider before committing to a payment option include:
What fees are charged?
How long does it take for the payout to go through?
How convenient is it to set up?
We're going to walk you through the pros and cons of the most popular payment methods, including ACH, Bitcoin, Transferwise, PayPal, Payoneer, and Wire Transfer to help you decide which is the best payment option for you (and will let you keep more of your hard earned money)!
Click here for the tl;dr final pros and cons chart!
ACH
Courtesy of Hustler Money Blog
What is ACH?
ACH stands for Automated Clearing House and is a method of payment where money is transferred electronically from one bank account to another in batches. Typically the sender is charged for remitting funds via ACH — the fee ranges from $0.50-$10 per transaction depending on the bank.
ACH Pros
One significant pro in favor of ACH transactions are that they are almost always free to receive. If you're not in a hurry to receive payment, you can keep pretty much all of your payout with ACH.
ACH Cons
One downside of ACH transactions is that they may take up to two to three business days to complete. Because ACH transactions are done in batches, there may be some waiting time between payment and the release of funds.
The biggest con of ACH for non-U.S. developers is that ACH transactions are limited to the United States only. If you don't reside or have a bank account in the United States, ACH is not a viable option for you.
ACH vs Wire: What are wire transfers? Jump to the Wire Transfer section.
Bitcoin
What is Bitcoin?
Bitcoin is the most well-known and most widely accepted cryptocurrency. In the last few years, it's made the news for making millionaires out of early believers and for the number of companies now willing to accept it as payment.
You can set up a personal wallet, send your client your key, and they can send you Bitcoin. After receiving the money, you can either keep your money in your wallet to sell to someone else for cash or use a service, such as Coinbase, to convert your money from Bitcoin to your local currency.
Bitcoin Pros
One advantage of Bitcoin is that the coins you receive from your client may be worth more over time. What you were paid today may be worth twice as much tomorrow with no effort on your part. That being said, because Bitcoin can be volatile, your payment could also be worth less by the time you cash out.
Another pro of Bitcoin is that you don't necessarily need to have a bank account to receive your payment from clients. This works well for overseas freelance developers who may not have bank accounts at banks that facilitate international transactions.
Bitcoin transactions can be conducted quickly, sometimes within minutes rather than business days. If you'd like to receive your money quickly, Bitcoin might be the way to go.
Bitcoin Cons
One con of Bitcoin is you may not be able to convert to local currency if your country doesn't have an exchange to convert Bitcoin to cash. While you could sell Bitcoin to other people for cash, finding a buyer can be tricky depending on where you live.
Bitcoin does have transaction fees, which are calculated depending on how quickly you want the transaction completed and whether you're trying to run a transaction at peak hours.
Transferwise
Transferwise, headquartered in London, was launched in 2011 to crowdsource currency exchange. Rather than transferring the sender's money directly to the recipient, it redirects the money to the recipient of an equivalent transfer (in the same currency), therefore limiting the number of currency conversions that has to take place and making the process more cost effective.
Transferwise Pros
If you're a developer based in Europe, Transferwise might be a great fit for you. It allows clients to pay you within 10 hours with an ACH bank transfer, 12 hours with Swift transfer, and one and a half days with a bank transfer.
Depending on your bank and the fees it charges to route a wire transfer, Transferwise may be cheaper than a wire transfer for a non U.S.-based developer, although that may vary depending how much you've billed your client.
Transferwise Cons
Transferwise charges 1% of the amount converted as part of its fees. That means if your client is invoiced for $1,000, you are automatically deducted $9.90 from the $1,000, then are subject to the exchange rate.
Like PayPal, you're also subject to exchange rates if you use Transferwise. That being said, unlike PayPal, Transferwise charges users the the mid-market rate based on Google's exchange rate.
PayPal
PayPal, an eBay subsidiary from 2002-2015, is a pioneer of online payment that lets people send money to each other with just an email address. As of 2017, it can be used in over 200 countries (although it's unavailable in Egypt, select African nations, and Iraq) to send and receive money between family and friends, and between clients and freelance developers.
PayPal Pros
One benefit of using PayPal to transfer money is that money is transferred instantly from the client to you.
Signing up for a PayPal account is free and relatively easy. It's not difficult to transfer money from your PayPal account into your bank account, though there are fees involved in doing so if you're being paid in a different currency.
PayPal Cons
One con is that PayPal charges transaction fees. The transaction fees for recipients for goods and services is 2.9% plus 0.30 USD off the amount you receive. Thus, if your pay is $1,000 USD, PayPal will charge you $29.30, meaning that you'll get to keep $970.70.
In addition to transaction fees, if you're a non-U.S based developer, PayPal also charges a 2.5 % conversion fee when you exchange the money from USD to your local currency. PayPal's exchange rate can potentially be worse than your bank's rate.
As of press time, our platform offers Transferwise, Paypal, ACH/Direct Deposit (U.S. Only), and Bitcoin. Below are other payment methods that might suit your needs, especially if you're not located in the United States.
Payoneer
Payoneer, founded in 2005, has four million users in 200 countries. From its headquarters in New York, it provides transactions in 150 local currencies and is used by Airbnb, Amazon, Google, and Newegg to send and receive payments around the world.
Payoneer Pros
With Payoneer, you'll have access to the equivalent of a local bank account in the United States, the United Kingdom, Europe, Japan, and China — if you're a freelance developer from any of these countries, you don't have to pay extra conversion fees.
Payoneer can be comparatively quick compared to traditional payment methods like wire transfers — you can get paid in as little as two to six hours — but may not be as fast as PayPal or Bitcoin.
Payoneer Cons
If you don't go through a platform and your customer pays with credit card or eCheck, one downside of Payoneer is that you'll be charged 3% and 1% on those types of transactions, respectively.
If you're an overseas developer not from the United Kingdom, Europe, Japan, or China, you'll be charged up to 2% above mid-market rate to transfer your money from USD (or any of the above currencies) into your local currency.
One complaint about Payoneer is the long waiting period to open a Payoneer account, which can take as long as two weeks once you submit your application. Therefore, if you want to use Payoneer as payment option, plan ahead before your client bills you.
Wire Transfer
Chart courtesy of the First Tennessee
What is a Wire Transfer?
Wire transfers are like a much faster version of ACH. Funds are moved from one bank to another in one business day domestically, although international wires can take an extra day or two.
Wire Transfer Pros
Wire transfers provide a way for overseas freelance developers to be paid by U.S. based clients. Although, as noted above, international wire transfers could take a day or two to process, they still provide a relatively safe way of receiving payment.
Domestic wire transfers (within the United States) can arrive the same day and sometimes funds can even be made available within one day. If you need to be paid quickly, it might be worth considering choosing wire transfer.
Wire Transfer Cons
One potential con for wire transfer are the fees involved. Wire transfers will almost always cost the sender money. Depending on the recipient's bank, however, a fee is also charged to receive the transfer, which can be anywhere from $10-35.
If you're an overseas freelance developer, you may receive less than you expected because of the exchange rate the day the wire transfer was processed. Because banks are doing the wire transfer, you may be subject to the exchange rate your bank or the clients' bank charges.
While one should always file their taxes on their income, with wire transfers, banks and governments have a definite record of your financial transactions, so those who are less diligent about filing their income taxes should be aware of each bank's responsibility to report wire transfer transactions.
Final Questions To Consider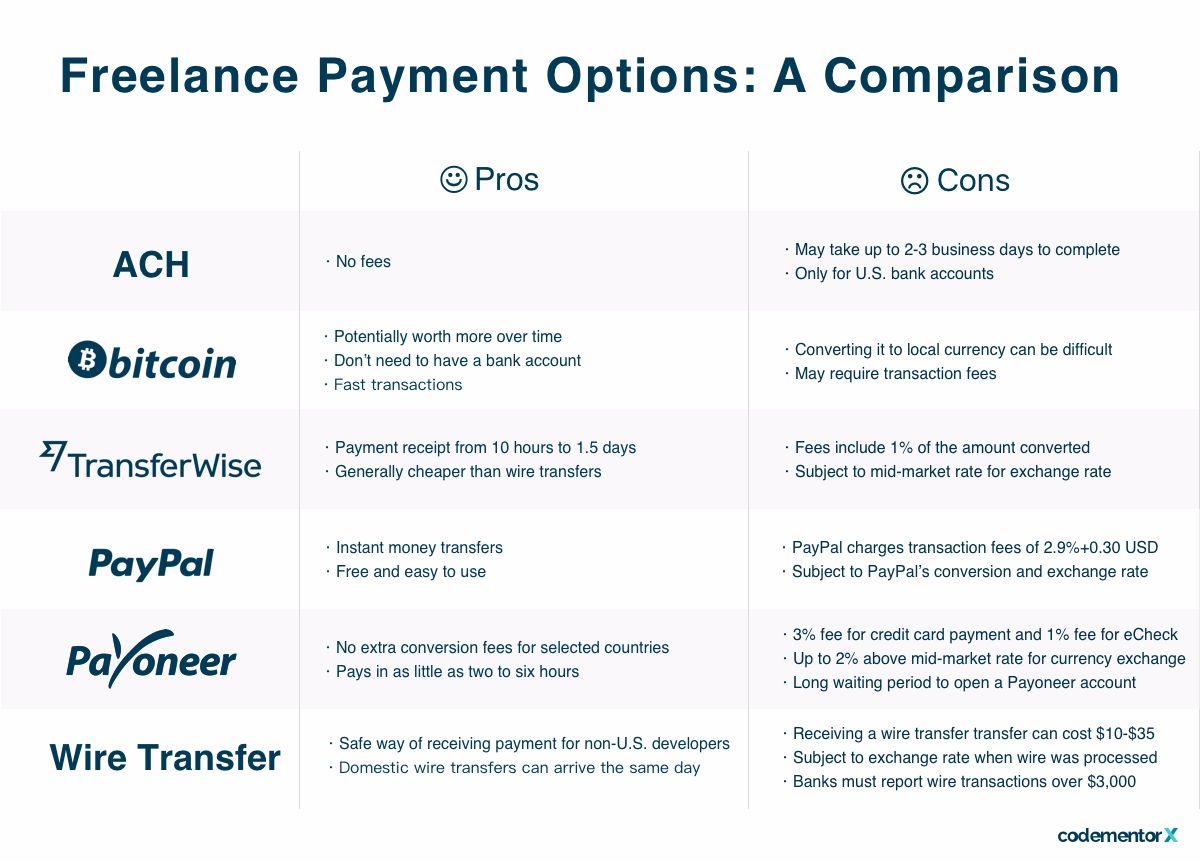 While the array of options may seem dizzying, all you need to do is sit down and consider your needs.
How often will you need money immediately?
Are your clients based in the same country you are?
How important is the speed at which you receive money versus how much you pay to receive it?
Once you have the answers to those questions, it should be easier to figure out the right freelance payment option for you. If you change your mind after a few payouts, don't fret. You should be able to change your payout method if the one you decided on doesn't work out for you.
If you've had some experience with receiving payments as a freelance developer, which payment option do you prefer? Let us know in the comments!