PHP is one of the most commonly used software development languages. It powers over 82% of the web, including sites we are all familiar with, like Facebook, Yahoo, and Wikipedia. PHP is also responsible for some key WordPress functions, including the displaying, sharing, and reading of content.
Since the language is used for everything, from CRM software to content management systems, both startups and established enterprises often need to hire experienced PHP developers.
To assist hiring managers in this undertaking, this article will offer some specific tips on how to recruit and hire skilled PHP developers. We will cover:
The State of PHP Today
PHP Developer Salaries
PHP Communities and Networks
PHP Job Descriptions
PHP Interview Questions
The State of PHP Today
As one of the earliest programming languages to hit the scene back in 1995, PHP has grown in conjunction with the commercialization of the web. It was originally designed as a generic template language and has therefore attracted a lot of beginner developers who have little to no formal training.
As a highly accessible language, novice developers often write sloppy spaghetti code using PHP when they are learning. As a result, PHP is sometimes criticized as lacking style and strong development practices. However, the existence of bad code does not mean the coding language itself is bad.
PHP gets a bad rap for the same reasons it's so useful: it's easy for devs to learn and use, it has a vibrant community, and it results in user-friendly websites. With PHP 7 now making the language faster, more applicable, and easier to use than ever, there can be no doubt that PHP is here to stay.
Results Are in from PHP 7
Big name companies are already reporting impressive results after switching to PHP 7. Take, for example, Tumblr, which reduced latency and CPU load by 50 percent after the switch. Meanwhile, badoo reportedly saved 1 million dollars in server and hosting costs and Dailymotion handles twice as much traffic with the same infrastructure.
As described by the Slack engineering team, PHP is a force to be reckoned with because "[it] provides better support for building, changing, and operating a successful project than competing environments."
Other well-known companies that use PHP include the following:
Flickr
Yahoo
MailChimp
Etsy
Baidu
Wikipedia
Most Popular PHP Frameworks
Laravel and Symfony are currently the most useful PHP frameworks for building increased complexity, working more quickly, and securely. Thanks to highly active communities that are constantly putting out new modules, tools, plugins, and answers to common questions, these two frameworks are most popular for prototyping and rapid application development.
Other frameworks teams may be using include:
Phalcon
CodeIgniter
Yii2
CakePHP
Zend
FuelPHP
PHP Developer Salaries and Freelance Rates
To attract the best talent, you need to be aware of PHP developer salary expectations. This section will present national average salaries, salaries by state, and PHP freelance developer rates to help you better figure out what these expectations may be.
PHP Developer Salaries in the USA
To calculate the national and local average salaries for PHP developers, we have used data from Indeed's salaries pages.
National Average: $102,954
Average Salaries by State
Here are the average PHP developer salaries for a selection of US states with tech hubs or a high ratio of software engineering job openings.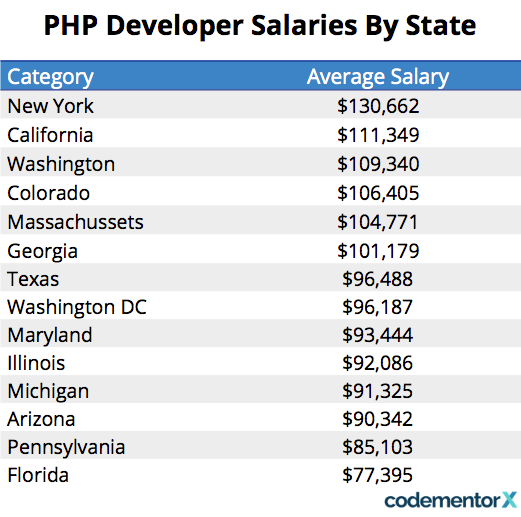 PHP Freelance Developer Rates
Based on Codementor's survey of over 5,000 freelance developers around the world, the average rate for developers with PHP skills is $61/hr. Note, this is an average calculated based on a global dataset, and hourly rates range from as high as $120/hr to as low as $41/hr depending on the freelancer's geographic location.
PHP Freelance Developer Monthly Average Salary
40hrs/Week x 4 Weeks = 160 Hours
160 hrs x 61 = $9,760 Per Month
PHP Freelance Developer Annual Salary
$9,760 x 12 Months = $117,120 Annually
With the average full-time PHP developer being compensated at $102,954 annually, hiring a full-time onsite programmer would seem to be more cost-effective than contracting freelancers. However, paid benefits and indirect costs substantially increase the cost of hiring a full-time employee.
For more on this, read Cost of Hiring Full-time vs. Freelance Software Developers.
PHP Developer Communities and Networks
Much like NBA scouts tune in to the NCAA tournament to find the best draft prospects, you should keep your eye on the places where PHP developers play, learn, and share.
Get involved in online PHP communities to learn about the common challenges PHP developers are trying to solve, get news and updates, and come into contact with passionate programmers who take the initiative to work on their craft. Programmers who are active in online communities will often be open to connect and may be able to refer other developers if they themselves are unable to work on your project.
Below is a list of online forums where PHP developers share knowledge, projects, ask and answer questions. Some of these sites award points and have a function to filter top users — this allows you to identify the most skilled developers on the site who you may want to reach out to.
In addition to online communities, the section below will also suggest relevant newsletters, conferences, and meetups.
Online PHP Communities
PHP Newsletters
PHP Meetups and Conferences
Be sure to check out your local PHP Meetup Community. Almost every major city has a meetup group that hosts events throughout the year. Such events are good opportunities to network with developers specifically interested in and skilled at PHP. If you're up to it, you can even register to speak at meetups and share your ideas.
Hackathons and Conferences are also sure stomping grounds for serious PHP developers. Try to find one in your region.
International Events
U.S. Events
Sunshine PHP- Miami (February 8-10)
Midwest PHP - Minnesota (March 9-10)
Longhorn PHP - Austin (April 19 - 21)
PHP[Tek] - Atlanta (May 31 - June 1)
Laracon - Chicago (July 25 - 26)
Pacific Northwest PHP - Seattle (usually September)
SymfonyLive - San Francisco (usually October)
PHP [World] - Washington, D.C. (Usually November)
Tailor Your PHP Job Description
A well-crafted job description is not only like an advertisement for your company, it's also an important tool for you draw the right talent into your recruiting funnel. There are five basic sections every job description should include. They are as follows:
Job title, location, type of employment (full-time, part-time, etc.), and salary range
Company overview, vision, mission statement, and culture
A detailed list of day-to-day responsibilities
Required skills
Benefits and perks
What you need to do is customize these components for your company and talent needs. To find the right PHP developer, you should use keywords that will attract the candidates that have the skillset you are looking for. For example, if you want to use object-oriented programming with PHP 7, you should use these keywords at the top of your requirements section.
Here are two examples of job descriptions, one pretty good and one that could be improved.
Pretty Good!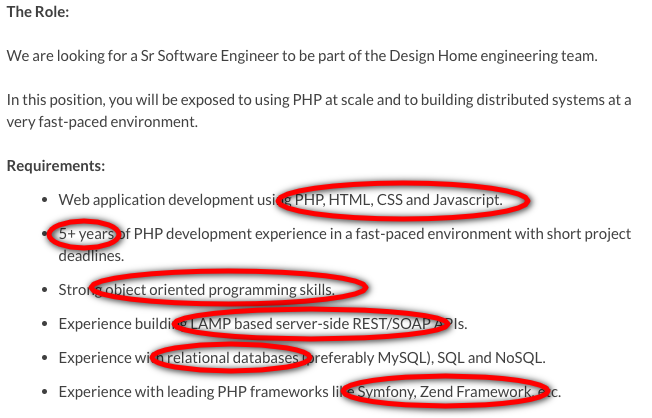 The first part of this job description is already using keywords, like PHP, and briefly states what the engineer will be building. The requirements section is clear and concise. It lists the years of experience expected, skills like object-oriented programming, and the frameworks that candidates need to be familiar with. Developers who read this job description will know right away whether they may or may not be a good match.
Could Be Improved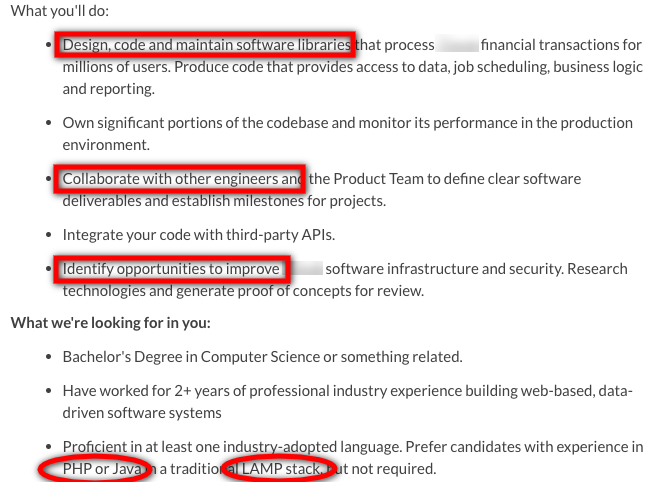 The first section of this job description is vague and does not increase understanding of what the job will be like. Including job functions like "design, code, and maintain software libraries," "collaborate with other engineers," or "identify opportunities to improve" are obvious and risk turning the reader off. There are some keywords and suggested skills in the second section, but this is negated with more vague language like "proficient in one industry-adopted language," and "but not required," leaving the reader unsure of whether or not they have the requisite skills or experience for the position.
A vague job description casts a wider net and attracts more candidates who are less likely to be a match for the opening. Specificity is the way to go.
For more on writing job descriptions, read this post on Software Engineer Job Descriptions that Attract the Best Developers.
PHP Interview Questions
To hire the best, you'll need to make sure your prospective developers have thorough knowledge of PHP and how to build with it efficiently. Here are a few PHP interview questions to get you started:
What are the main error types in PHP and how do they differ?
How can we get the client's IP address?
What are traits?
What are PSRs? Choose one and briefly describe it.
Here is our comprehensive list of 25 PHP interview questions.
When interviewing developers, in addition to technical knowledge, it's also key to gauge for communication skills, professionalism, creativity, and level of interest. For more tips on how to do this, read this post: Engineer Interview Questions That Will Make or Break Your Project.
Recap
If you find yourself with a need for a PHP expert, here's how to get started finding them:
Allocate a budget that matches the market rate in your region. Be sure you have a clear understanding of the additional costs associated with hiring full-time employees.
Check out PHP developer hangouts, both online and off. Become a member of the PHP community — participate and network to find developers who will be interested in joining you to build or improve your product.
Tailor and post your job description. Use keywords and include specific requirements in your job description — it will save you the trouble of dealing with an overwhelming number of unqualified candidates.
Prepare your interview process. Test candidates' depth of PHP knowledge with questions specifically designed for that purpose, and evaluate for general fit.
Best of luck in your recruiting efforts!
Looking to hire a PHP developer? We have a pool of pre-vetted candidates available at CodementorX. Talk to us now!