Every entertainment industry has stars and influencers who are positioned to drive new innovation and inspire their peers. The music industry is no different.
About 4 years ago, Giulio and Michael, the founders of Equipboard, noticed a gap in the musical instrument industry. Plenty of fans and aspiring musicians want to know how their musical heroes achieve their sound, but until now there has been no place to associate renowned artists with the gear they use.
Equipboard has been working to change this. Requiring photo evidence or statements from musicians themselves, the site crowd-sources an extensive library of artists of every genre and the instruments they use. You can find the guitars Paul McCartney uses, Travis Barker's drum kit, or Daft Punk's mixing console.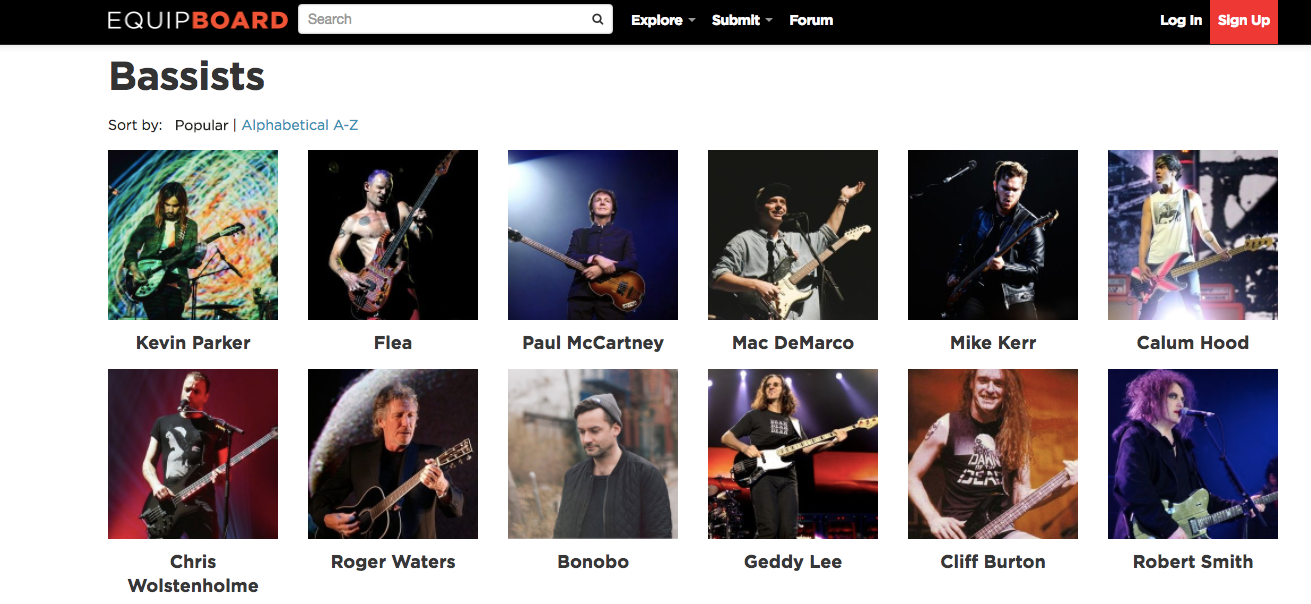 Increased Traffic Requires More Technical Attention
With excellent SEO for artists and music gear search terms, Equipboard's site traffic has steadily grown, reaching 1 million users per month. However, Giulio and Michael soon found their limited funding was not enough to support the growing technical requirements of the platform. "You can't mismanage 1 million people," says Guilio.
In order to upgrade infrastructure and keep the site up to speed for the growing user base, Equipboard needed to find a leaner way to operate.
Finding a Reliable Freelance Partner
Although Giulio has a technical background, playing the role of both developer and co-founder began to take a toll, especially as the company continued to grow.
"It made a lot of sense to seek out remote help of someone more cost-effective on the dev front." However, as Giulio put it, "we were having some trouble finding good people."
The pair considered using freelance sites but had concerns about finding a reliable long-term partner on platforms that mainly specialize in creating high volume candidate pools. "Sites like Upwork can be great if you just need someone to write a simple script, say to scrape a website," Says Giulio, "but to find a really reliable, longer-term person that you can build a relationship with is much tougher."
That's when one of their investors introduced Equipboard to CodementorX.
Connecting With a Vetted Developer
According to Giulio, finding a developer with the right skill set to fit their budget on CodementorX was a simple process.
"Our engagement manager helped onboard us — we gave our requirements, our tech stack, and our challenges, and he came up with the candidates. He even assisted from a cultural perspective, suggesting which candidates might be a better fit for a startup vs. an enterprise."
After interviewing several candidates, Equipboard settled on Mehmet, a full-stack engineer based in Turkey. Giulio was impressed with the shortlist and the vetting process: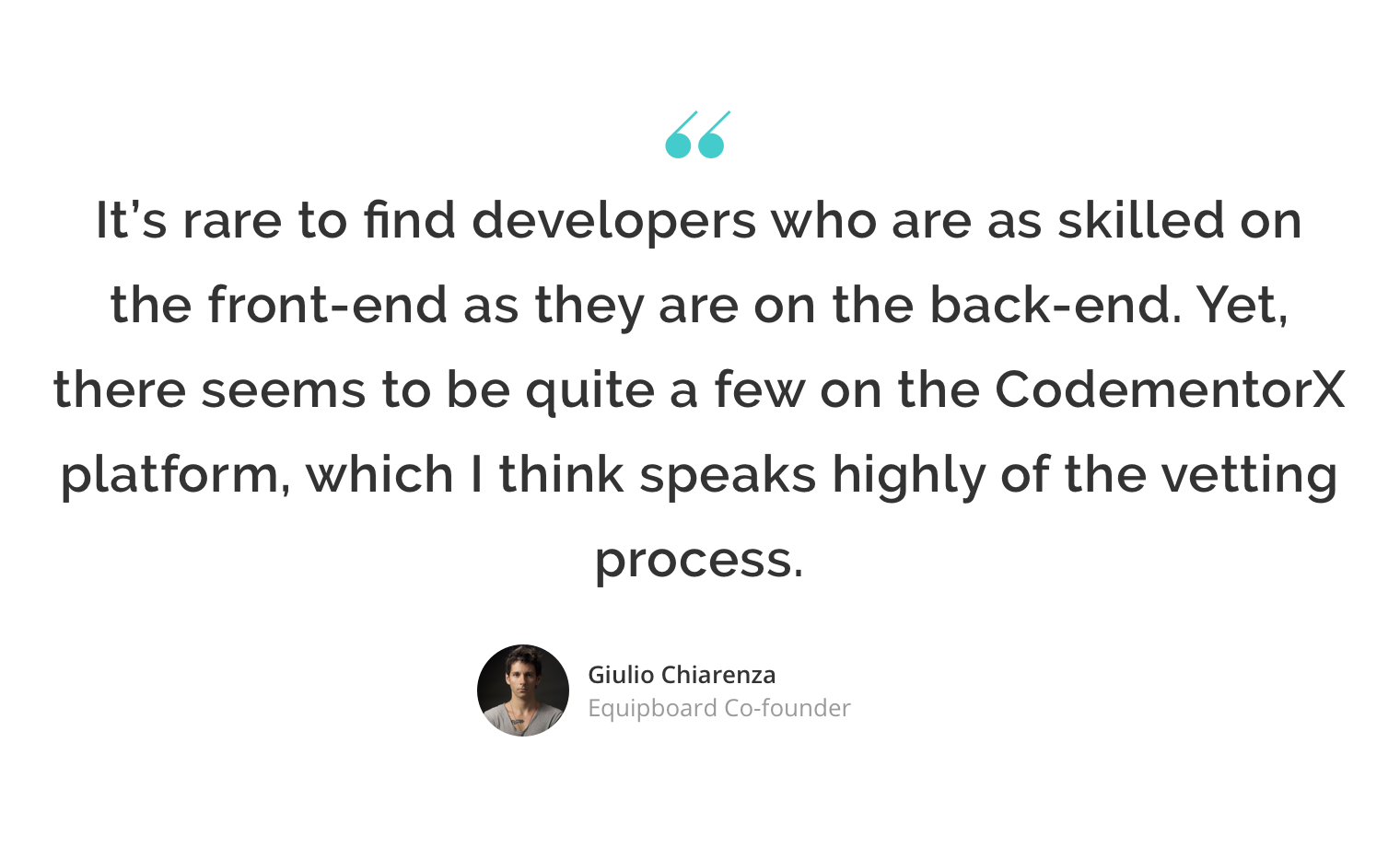 Check out the top full-stack vetted developers on CodementorX here.
Working With a Remote Developer
Since they connected, Mehmet has been helping Equipboard with site infrastructure and speed. As a site that depends on SEO traffic, this is especially important. "Google needs to know you are a fast site in order reward you with rankings," explained Giulio.
To keep the site running smoothly, Mehmet has helped Giulio and his co-founder Michael with everything from patching up code to their AWS hosting.
"The great thing about Mehmet," Giulio told us, "Is that there has never been a challenge he said 'no' to. Because I'm technical myself, I really appreciate that he doesn't just go into a hole and work by himself. He's really good at collaborating with us."
Despite being remote, Mehmet and the Equipboard guys are able to coordinate their time so they are in contact during overlapping hours. "He meshes with us really well," says Giulio.
Mehmet has been working with Equipboard for nearly a year, and he continues to help them launch new features requested by their users.
Expanding the Site's Product With Remote Talent
Now that Equipboard has begun to help bridge the information gap between music influencers and gear enthusiasts, they are ready to enter the digital marketing space of musical instrument manufacturers, their customers, and artists.
With the help of Mehmet, they plan to build a back-end function for instrument manufacturers to more actively participate on the site. "We want to build brands a back-end dashboard that allows them to take ownership of their products on the platform. This will be a win-win — brands will be better represented, and the content will be improved for the end-user with specs, descriptions, videos, images, and perhaps more endorsements."
Commenting on his overall experience with CodementorX and the remote developer, Giulio said, "If I worked with someone else, I would really love that same attitude of 'no challenge too big or small.' It really makes me trust the Codementor platform because the first guy I worked with on there worked out perfectly."
With the help the CodementorX developer, Equipboard is positioned to revolutionize the way up-and-coming musicians find the right sound, and the way established stars lead the music industry.