In 2015, after realizing that there wasn't an ideal tool to help blue-collar service providers streamline their day-to-day work, Bridge pioneered a fix to the problem. The Australian company's goal is to take care of tedious tasks for blue-collar workers (or 'tradies', as they're called Down Under), so the workers can focus on what they do best. With Bridge's software, blue-collar workers can now easily manage all of their jobs, quotes, invoices, and payments in one place.
Talent Shortage in Australia
Software developers are scarce in Australia. In late 2016, there were only two full-stack developers and one front-end developer on Bridge's local team, and they urgently needed a senior React developer to build new features for their growing user base.
However, hiring a senior developer locally in Melbourne was challenging for Bridge. Aside from the generally small market, the fact that many well-known tech companies, including Atlassian and Canva, are based in Sydney certainly didn't help.
As a fast-growing startup, Bridge needed an alternative way to speed up product development while searching for a full-time developer — hiring freelancers therefore became a potential solution.
Hit-and-miss with Remote Freelancers
Hiring freelancers online wasn't new to Bridge. Bradley Taylor, the CEO of Bridge, had hired on traditional freelance platforms like Upwork before, but the quality of the developers was unpredictable, and it was time-consuming to filter out those who were unqualified. Because of this lack of reliability, Bridge would only assign low-priority tasks to those freelancers.
Originally, Bradley had only planned on getting development advice for his team via mentorship sessions on Codementor, but after learning that he could hire vetted freelance developers as contractors on CodementorX, he decided to give it a shot.
Improved UI and Revamped Company Website
After talking to the CodementorX team, Bradley hired two senior React developers in less than a week. The two developers improved the existing UI of Bridge's web app. Even after the team onboarded a full-time tech lead, Bridge still kept one developer on deck and ended up working with him for eight months.

User dashboard of Bridge's web app
"The CodementorX developer we hired played a fundamental role helping the team shape its use of best practices and patterns in implementing React.js, unit testing, and upgrading the libraries to keep the stack up to date. He also helped to implement critical functionalities, like adding a fuzzy search for jobs and customers. Most importantly, he was always available and keen to mentor, collaborate, and share ideas with the team," said Samuel Chalela, Tech Lead at Bridge.
In addition, Bradley also hired a WordPress developer on CodementorX to rebuild Bridge's company website. The developer customized a WordPress theme to create a whole new look of the website within two months.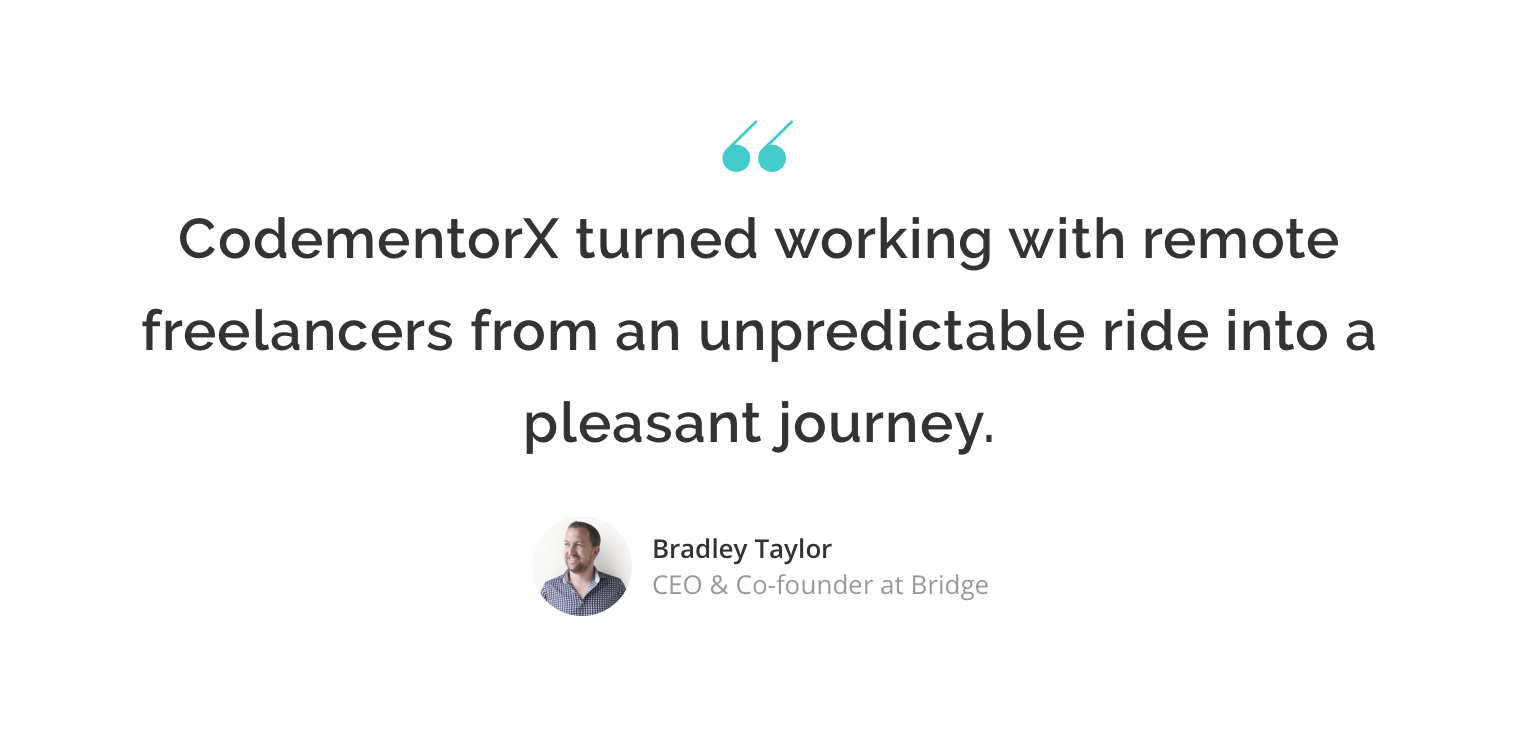 According to Bradley, "I am much more confident in the developers on CodementorX than the ones on other freelancing platforms because of its vetting process. The fact that CodementorX offered a dedicated engagement manager to support us throughout the process made the experience even better."
In the end, CodementorX was able to "bridge" the gap between world-class developers and Bradley's team, so his team could continue to grow their product for blue-collar workers around the world.