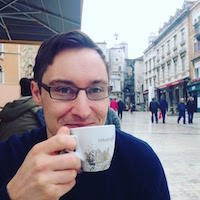 Brendan Barr
A javascript developer with 10+ years of trying to write better code.
$25.00
For every 15 minutes
I am a former musician who came to programming for the money and stayed for the happiness. Nowadays, my role usually involves leading projects, working with the client to define technical and feature requirements, mentoring greener teammates, and best of all, coding. Both in code and in code reviews, I embrace as much functional programming as can fit comfortably in Javascript: identify and isolate side-effects, focus on functions not classes, and never underestimate basic data structures.
Github repositories
medium
A functional CSP library using ES7 async/await keywords
HayMaker
Make hay while the sun is shining. Lazy-preloading of images and AJAX assets.
Embracing Dependency Minimalism
Picking the right tools for the job is hard, but too many tools can hurt just as much as the wrong ones. Embracing minimalism, and a methodical approach to the adoption of outside technology can help make the right tools easier to identify.
Average Rating
5.0
(3 ratings)
Diagnosed my issue with React/Redux very quickly and gave me some good suggestions as to what to do next. Thanks Brendan!