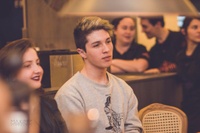 André Schumacher
Full Stack Developer at Digicounter
Best Text Editor? Atom vs Sublime vs Visual Studio Code vs Vim
In your developer's career, you should give each one of the four text editors mentioned in this tutorial a shot for at least a week to see for yourself what works and what does not work for you.
How I Built a Reverse Image Search with Machine Learning and TensorFlow: Part 2
For this post, I'm going to dive into model development. I'm using an autoencoder model with 6 encoding and 6 decoding layers.
35 habits that make you write bad code
These are the top 35 bad programming habits among four categories: code organization, teamwork, writing code, and testing & maintenance