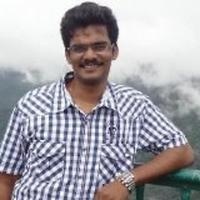 Sakthidharan Ashwin P
Analyst at a Top Notch Bank in the IT domain
$30.00
For every 15 minutes
** Having over 8 Years of experience in Software development and design ** * Oracle Certified Java Professional - Java SE 6 Programmer. * Completed M101JS Certification , MongoDB for Node.js Developers. * MapR Certified Spark developer – DEV 360 – Apache Spark Essentials. * Involved in Deployment of applications in Application Servers (Cluster) like Glassfish which involved setting up of all configurations related to the application server. * Co-ordinated for setting up of URL-Redirection, Load Balancing and SSL enabling in Apache Web Server * Experienced in handling Databases Oracle9i, 10g, 11g ,MS Sql Server. ** POLICIES ** =================== * If you are dissatisfied with my service in any way, I will refund you in full * I do not generally charge for the "show & tell" phase of our session or random digressions * If your request rate is higher than my standard rate, our session rate will match your request rate. * I try to make a record of all changes and be able to revert them quickly, but it is your responsibility to archive responsibly * CodeMentor has changed my life in very positive ways and I strictly adhere to their billing policy. All offline work must be paid for through CM at standard or agreed upon rates. Specialties: ========= * Operating Systems : Windows, Linux. ============================================================================= * Programming Languages : JAVA,Scala. ============================================================================= * Big Data : Hadoop,Hive,Spark. ============================================================================= * RDBMS : Oracle,MSSQL. ============================================================================= * Persistence Tools : Hibernate, JDBC Template. ============================================================================= * SOA : SOAP and REST Architecture using Swagger. ============================================================================= * Framework : Spring, Spring Boot. ============================================================================= * NOSql : MongoDB,Elastic Search ============================================================================= * Devops : Docker. ============================================================================= * Version Control : Subversion (Tortoise SVN), Accurev,GitHub. ============================================================================= * Build Tool : Maven,Ant,SBT ============================================================================= * MiddleWare : Siperian MDM(Informatica),MQ. ============================================================================= * Continuous Integration : Jenkins. =============================================================================
6
Java
Average Rating
4.8
(45 ratings)
EXCELLENT HELP VERY KNOWLEDGEABLE !!!!!!
Explained any questions I had in great depth and made sure I understood everything that was being taught.
Solved my problem nice and quickly. Thanks heaps
Great help & very knowledgeable! He was able to assist me on a really tough scenario I was experiencing. Will recommend him to all.
Super helpful and patient on chat.
Good job helping with an unusual issue.
Ashwin was awesome! Really knowledgeable and very helpful!
This was extremely helpful...Got my situation sorted quickly and was very patient with my lack of knowledge
Sakthidharan Ashwin was exceptionally helpful and professional. I enjoyed my session with him.
Very patient and helpful!
VIEW MORE REVIEWS