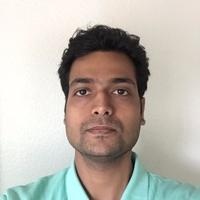 Ashish
Consultant | Technical Speaker | Startup Founder | Full Stack Developer | Chatbots | AI | Machine Learning | JavaScript | jQuery | NodeJS | AngularJS | MongoDB | MeteorJS | ElasticSearch | Firebase | Android | Ionic | Mocha | Digitalocean | MySQL
Average Rating
4.9
(252 ratings)
May 2018
Very knowledgeable about the NoSQL Database design. Thanks, Ashish. We'll definitely have another session soon.
Very helpfull, solved my problems very quickly!
Excellent! He was very straightforward and willing to help!
Apr 2018
Very helpful, pointed me in the right direction very quickly!
Super helpful! Didn't take long to catch him up on the issue I was having and he was able to easily help me work through it!
Ashish was great in help me solve the issue. Very patient and worked methodically through the steps in figuring out the integration of a payment form. Highly recommend!
Mar 2018
Ashish really carefully looked through my project and clarify my problems. He helped me understand how the project should go on.
Solid developer, great communicator, very helpful. Thank you so much.
Jan 2018
Great developer. I will recommend him. HE helped us in no time resolve issues related to frequent app crashes. 5 Stars!!
Ashish, thanks for helping with our mobile screens. Great skill
Almost there. Half the problem is solved thanks to Ashish. The APK now works. Best
Ashish quickly helped fix bugs for my team & I.
Great developer. I will recommend.
Thanks for your help in setting up the app locally. Great developer and great co-working mate.