The Rise of Chatbots in Businesses

Introduction:
One of the biggest trends in social media, specially social messaging apps, are bots and bot stores. What are these bots? You can think of them as some kind of tool that you can message and will reply back to you accordingly. For example, I wanna buy what I bought yesterday. An e-commerce bot will look at what you bought yesterday, and buy them automatically.
The trend of auto conversing bots inside messaging app is called conversational economy. They allow you to do many more things than mobile apps do, and they are more convenient because you don't need to download a different app each time and you want to use them through a chat interface.
What the Future Holds:
Technology analysts predicted that bot stores will be the biggest thing since the rise of app stores and we could not agree more. In fact, I beleive it's going to get much bigger than that. Let's take Telegram, a messaging app with over 100 million active users, as an example, has launched a bot store with many diverse features. You can find bots in apps that allow you to play games, message other people, or shop online. Bots will be central to the way we communicate, shop, travel, and use various services. We may even go to the extent of saying that, in the future, these bots will take over traditional websites we're used to.
2016 was the year we all started using chatbots. Turns out, messaging platforms are the killer apps for smart phones. In 2015, more than 1.5 billion people used chatting apps. Furthermore, almost 70 percent of all app usage comes from just 200 apps. What this means is that most apps go unused. A lot of developers are convinced that it would be a lot easier to get users to just chat with chatbots than to download an app, login, learn to use it, and then try to remember what it was that they wanted to do in the first place. Now, let's see how bots can be used for business.
Bots are communication frameworks that allow us to order whatever we want. This decreases the number of apps on your phone. For example, you may not need to have an Uber app on your phone — you can simply message Uber with "pick me up from so and so location" to get picked up! There are so many integrations that can be done in these bot stores.
What are Business Bots?
They are basically text based services that allow users to perform tasks like scheduling meetings, ordering products, booking flights etc. via text. If you are an e-commerce company, or really any company, that is not thinking about using bots as one of your competitive strategies, you might want to rethink that.
Here are some examples of business chatbots that are already gaining tractions:
1.KUDI - seamless bill payment through messaging: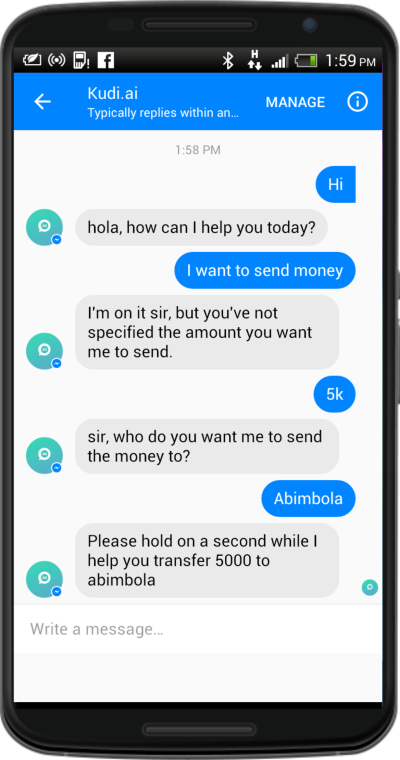 Kudi is a chatbot for people to pay bills and pay each other via messaging. It currently lives in Facebook Messenger and will soon be available in Skype. It helps users transfer money, buy airtime for their phone, pay bills, and stay on top of their bank accounts.
2. MyStarbucks Barista: StarBucks voice chat bot.

Starbucks recently launched a voice activated chatbot called 'MyStarbucks Barista' that lets customers place orders by speaking. For instance, customers can order a latte by simply saying "I want a latte" to the chat pot. The features can also be used to pay for orders.
3. VerbalAccess: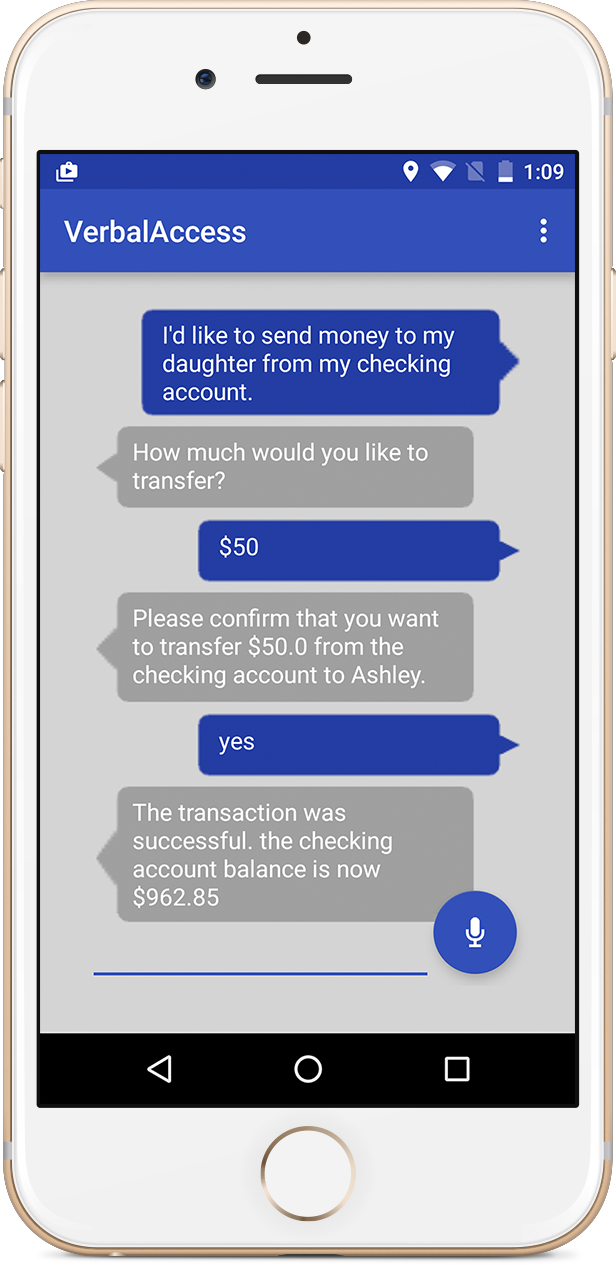 VerbalAccess uses natural language processing technology to empower its bot to take voice commands and perform banking transactions.
4. eBay Shopbot: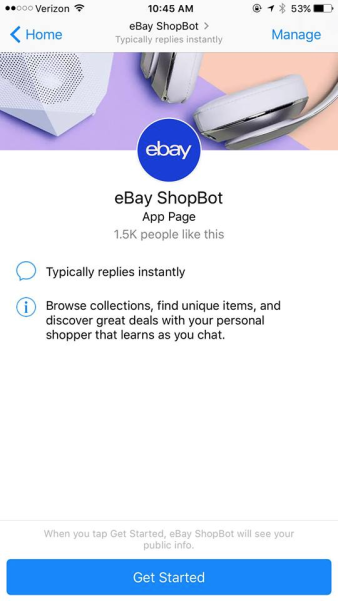 eBay ShopBot is a chatbot that eBay built on Facebook. It helps you shop for gifts and desired items on eBay.
Summary:
There are five main players, that we know of, in the court right now: Facebook, Google, Amazon, Apple, and Microsoft. Microsoft even tested its new AI chatbot, Zo, in December 2016. Microsoft aims to make computing systems that completely run on conversations between users and their computers.
Chatbots are the up and rising technology. This opens doors and endless opportunities for many developers to build simple chatbots.
Resources
Here are some resources to get you started on making your own chatbots!