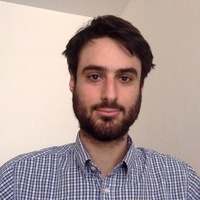 Ariel Elkin
$8.00
For every 15 minutes
I am a senior iOS Developer with extensive experience, having worked on more than ten commercial apps in the App Store. Throughout my career I have been responsible for code creation, project architecture, team tasks management, and technical management. My Master's Degree in Computer Science has given me a passion for becoming an expert in my field. I have been the Editor of the Mobile section of SitePoint.com, an online magazine with more than 10 million page views per month, where I commissioned and edited tutorials and articles about mobile development. The iOS developers community is important to me, and I enjoy listening to and giving conference talks about iOS and Swift. I also taught iOS development at London's General Assembly. iOS developers are part of an important open-source community too, and I have contributed to and maintain several open-source projects for iOS. One of them (PocketSVG) is currently used in the Uber app for iOS.
I worked on 10 different apps in several app store categories, so I'm familiar with the iOS development lifecycle. I have been responsible for code creation and project architecture. The apps I have worked on have been featured in the App Store "Editor's Choice" section, as well as in The Guardian and Wired Magazine.
Swift
- 3 years experience
In past positions, I helped set the company's Swift coding style guidelines, and was responsible for supervising and training other programmers. I was sent to Swift conferences and meetups to learn how about more modern programming techniques and libraries, and shared my learnings with my peers.
Github repositories
SwiftyAudio
Example use of AVAudioEngine
Sequencer
Example use of the sequencer plugin for The Amazing Audio Engine