Find a mentor

Web Programming

Mobile App Programming

Programming Languages

Data Science /Engineering

Database /Operations

Others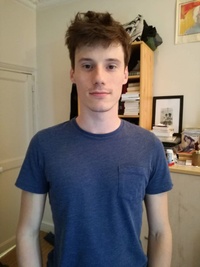 Antoine Guilbaud
backend and devops engineer from france, also security enthousiast.
$8.00
For every 15 minutes
I'm a young programmer, passionated by computers in general. I've worked in a startup as a back end developer, and now I'm working as a dev-ops in a bigger company. I like sharing my knowledge with people and guiding them to success, and I will be happy to help you with my expertise.
Linux
- 4 years experience
Given the fact that Linux is an open source project with a huge community. Many IT companies around the world choose it as the main OS for their servers and services. This fact makes the knowledge of Linux in depth, into a powerful tool at your disposal which can open many doors, and lead to better understanding for all sorts of roles, such as Back end developers, Dev-ops engineers and others. Because I've been using it both at work and at home for many years, I can help you to enjoy it as much as I do :)
Golang is a fairly new language with a very bright future. It's ease of use coupled with maintainability and fast speed makes it more and more adopted by companies. With golang, you can write complex ideas with just a few lines of code, because it's developers made such a good job at creating it. I personally love this language, and would recommend it to anyone willing to write efficient code for backend projects.
Python is a simple language, easy to start with and fun. This is why this is my tool of choice when I decide to script things that would help me in my daily tasks (monitoring web services, security monitoring, etc..). Through the years I've learned to unleash the power of this language and discover its many uses, and also learned all about its internals. As a mentor I can help you find the joy and efficiency of Python, and discover it as deeply as I did.
At the moment, I am working as an administrator of a production kubernetes cluster. I now about the maintenance of a kubernetes cluster, or how to set one up properly - on aws or bare metal.
React native is a javascript framework developped by facebook. This awesome tool allows you to create applications that will run on both android and ios, with the speed and looks of native applications. If you need to develop an application, I would recommend using react native, as it is way more efficient than having to maintain 2 applications in different languages (ios and android)
C is a standard in programming, and knowing this language can give you a very deep understanding of how computers work in general. Although it is now less used by companies because it is very error prone, hard to write and maintain, it can still be a very good asset as it will make you better in other languages you write.
Assembly is not really used to code stuff anymore, but it can be a pretty fun language if you are into low level stuff. It is the root of computer languages in general, and knowing it will definitely work you through the internals of how computers are made and how to talk to them. If you are into security or reverse engineering, knowing this language will be a tremendous asset.