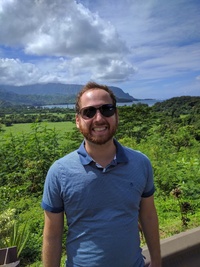 Andrew Fader
VP Engineering, Publicis Media
$35.00
For every 15 minutes
Aspiring polymath, big picture generalist with extensive full-stack software development experience as well as a generous helping of soft skills, business acumen and the irreverent hacker spirit. Favorite language: Ruby. Prefers free-wheeling workplaces with ping pong and/or foosball tables. Focus on attention to detail and communication, promiscuous pair programming, non-dogmatic agile practice, radical simplicity, ad-hoc refactoring, continuous integration, democratic dev ops, lean structures, and self-aware honesty in the pursuit of constant self-improvement.
4
Ruby
3
Ruby on Rails
Github repositories
dockingbay
Rails app for managing docker
sevenstars
Lots of people use something called a "door" to go in and out of their houses...
Average Rating
5.0
(14 ratings)
Very helpful and friendly!
Verry happy with his knowledge of JS
Very respectful of my time and very helpful, in general.
Patient, efficient, completely awesome.