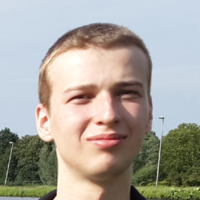 Anatolii Kmetiuk
Functional Programming & Data Science Expert
Scala
- 5 years experience
Worked extensively on parsers and language extension for Scala. Interested in type-level and purely functional programming. Please see my blog for more details: akmetiuk.com
Used to work on several machine learning projects involving these technologies. Implemented algorithms in Keras and Tensorflow.
Github repositories
free-acp
A rewriting-based process algebra engine
kanki
An application to assist in translation of Korean vocabulary for Anki flashcards.
Implicit Mechanisms in Scala
Introduction to how implicits work in Scala and what they are useful for.
Average Rating
5.0
(4 ratings)
Anatolii is a genius, helped me so much with my problem. I'm sure he can help you as well.
Anatolii is the nicest and most patient mentor! He helped me out a lot with a major school project, not only with the code but with understanding the concepts. If I ever need coding help, I would definitely go to him again. Thanks so much, Anatolii!
Anatolii implemented a TF-IDF application using Scala for us. Excellent code quality, top-notch communication skills, and overall he's just a super helpful dude. Would definitely hire again.