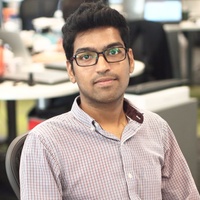 Amulya Khare
Github repositories
TextDrawable
This light-weight library provides images with letter/text like the Gmail app. It extends the Drawable class thus can be used with existing/custom/network ImageView classes. Also included is a fluent interface for creating drawables and a customizable ColorGenerator.
Android-Clean-Architecture-BookStore
A sample android application built based on the principles of Uncle Bob's Clean Architecture.
Average Rating
5.0
(1 rating)
Explained the concepts really well. Great Help at the right time :)