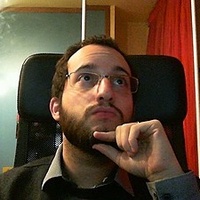 Alessandro Flati
Mathematician / Full stack web developer / Software engineer
For every 15 minutes
I am an experienced developer with almost a decade in the field across many languages and frameworks (primarily for web apps). I'm a software engineer and a computer scientist, well versed in Machine Learning and Artificial Intelligence due to my mathematical background.
3
HTML/CSS
3
Java
An algorithm that will generate random Hitori puzzles until it finds one that can be solved, and then solves it using BTS and some basic logical/mathematical inferences
Why you shouldn't rely entirely on Machine Learning
Through explaining (in broad terms) how to integrate Backtracking and Constraint Propagation in order to develop an AI for Hitori, I show readers that in some cases, some approaches work better than others, and, in the end, not everything can be solved with "prepackaged" methods.
Average Rating
5.0
(14 ratings)
Top notch, thank you for all of your help!
Highly competent, and extremely helpful session! Highly recommended, will definitively work with him again
Alessandro helped solved my inquiry quickly!
Experienced developer, who like to help from the bottom of my heart.
Great mentor, and was a great help. Will be using him again. Thanks
Very patient, fast tutor and easily understood the problem!
Alessandro is super professional. He helped me solve Artificial intelligence problem in python in a very efficient ways.
Amazing guy, patient and friendly would do work with him again
Brilliant programer, who loves to help. Alessandro helps me to solve AI and machine learning complex programs with high motivation and understanding.
VIEW MORE REVIEWS