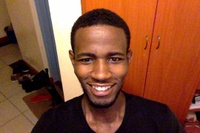 Austin Kabiru
There's beauty in simplicity
I primarily work with Ruby building RubyGems (CLI apps, libraries) in addition to web applications. I'm also a contributing author at scotch.io mostly writing on Ruby (https://scotch.io/tutorials/build-a-restful-json-api-with-rails-5-part-one).
I have experience building purely functional frontend web apps with Elm. Example open source project: https://github.com/akabiru/shufflebox-frontend. I'm also conversant with functional programming concepts; I love to borrow concepts from FP and apply them to my OOP code.
I recently picked up React with a focus on using it with Rails webpacker.
Github repositories
todos-api
🍻 🍾 @scotch-io tutorial "Build a RESTful JSON API with Rails 5" codebase.
rafiki-zsh
👀👻 A zsh friend to watch over you.
3 Steps to Set up a Ruby Environment on macOS
Learn how to use rbenv to set up a Ruby environment on macOS in three steps.
Average Rating
5.0
(4 ratings)
Great session! Learned a ton and looking forward to speaking with Austin again with any other development. Thank you!
Great mentor. Really spends the time to figure out the problem before initializing the session and will pause if we needed to think things through before writing code. Thorough and very helpful for juniors.
Austin was awesome! Helped me solve my issues and made sure I understood what was going on. He really sets you up for success and is a great resource!