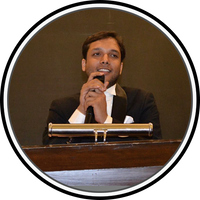 Android & Design Lead at MoldedBits Technologies Pvt. Ltd.
Average Rating
5.0
(75 ratings)
Apr 2018
This session was awesome. Abhishek reviewed my code and helped find a solution to the bugs as quickly as possible. Thank you Abhishek!
Very helpful, and very capable for the job. Thanks a lot :)
Today's session we worked with data manipulations using Adapter and RecyclerView, debugging the application to locate values being returned from the API. The session was well structured and a lot of explanations were given. Thank you, Abhishek!
Today's session was focused on using mock data and how to project same in an application. The time spent was worth it as Abhishek took the time to explain the whole process. Thank you!
Today's session was extremely helpful. Abhishek was able to go through my code and point out errors and how I can improve my code. Thank you!!
We reviewed the code and he was able to make the corrections I needed as quickly as possible. Really appreciate the session.
He is great. He helped me in many subjects and was awesome
Great mentor, fixes code and finds mistakes very quickly. Always replies and is glad to help
Very good job, he was able to help even with tasks that weren't his expertise
Helpful session, thank You
fast, cheap, and responsive with a clean coded outcome!
Mar 2018
Great job. Great mentor. Goes above and beyond.