Find a mentor

Web Programming

Mobile App Programming

Programming Languages

Data Science /Engineering

Database /Operations

Others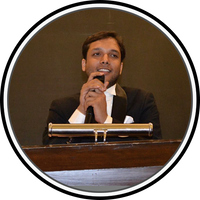 Abhishek Bansal
Android & Design Lead at MoldedBits Technologies Pvt. Ltd.
$15.00
For every 15 minutes
Android Ninja, Overall 5 years of product developement experience. Polyglot, have written production code in C++, Python, Kotlin and Java. All 5 star ratings till now, not even a single unsatisfied client. I give a FULL REFUND guarantee if I am not able to solve your problem. My personal products website http://rrapps.in Developer Story https://stackoverflow.com/users/story/1107755
3
Java
Github repositories
OpenGL_Experiments
My experiments with OpenGL in college time :)
Android_Experiments
My Experiments with android development.. :)
Using Dagger2 SubComponents to Propagate Dependancies
dependency Injection makes your code scalable and testable. Dagger2 is almost de-facto dependency Injection framework in Java these days, and, Its supported and used by Google which makes it first…
The Rx Way of Doing Things
The reactive way of programming makes many complex problems infinitely easy. I will try to explain how reactive programming makes a developer's life easy by doing more in less code.
Average Rating
5.0
(43 ratings)
Session was great. He explained the things I needed to know about my code and what was wrong. Thank you!
Code worked fine at end of session. Lots of information was given and much was learnt. Great mentor!
Worked with Abhishek till the code was finally fixed. Thank you!
His lessons are very easy to follow as he explains very well.
Abhishek was the best mentor i found here, very patience, nice, very skilled and he solved all my problems! I will came back to him for sure!
The session was informative. Looking forward to more sessions. Thank you.
VIEW MORE REVIEWS